BMW has cancelled its plans to build a car plant in the Russian province of Kaliningrad following a failure to agree on investment terms with the government.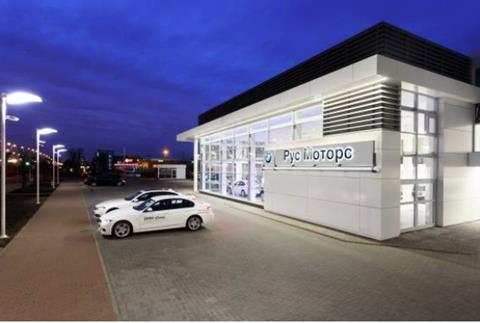 "The building of the plant had to be economically feasible and beneficial," said Stefan Teuchert, CEO of BMW Group Russia, at a press conference in January. "Besides that, we needed to maintain a reasonable balance between localised and imported models."
For the last two decades BMW has been assembling cars in the capital of the province (also called Kaliningrad) under contract with Russian carmaker Avtotor, which makes the cars from imported semi-knockdown (SKD) kits. However, the German carmaker was planning to build another plant in Khrabrovo and assemble vehicles there from the ground up based on local parts supply.
According to Teuchart, BMW had been in negotiations with the government for a year and half over the terms of its special investment contract in Russia but because of inconsistencies in government policy at the federal level, it was unable to reach a conclusion.
"There was a complete uncertainty regarding what subsidies BMW could count for with this project depending on the certain rate of the achieved localisation," said Teuchert.
Russia introduced special investment contracts (or spics) in 2015. They were designed to provide state support for foreign investment in localised production following an agreement between the regional authority in Russia and the investor – in this case BMW – on the level of investment and localisation.
"We believe it is important to develop localised production and BMW needs to invest in the market," said Teuchert. "We were ready to do that not only to maintain our Russian production, but also to expand it, but we were not able to find a common language with the government and to agree on the terms, under which the investments would be profitable," Teuchert said.
As a consequence, he said BMW had withdrawn from signing any contract with the local authority and was searching for an alternative solution.
State aid is lost
Teuchert said that under present conditions the BMW plant in Russia would not be profitable even under the terms granted to Daimler, which agreed a contract in 2016 to develop a Mercedes-Benz car plant near Moscow. Daimler opened that plant, which is in the town of Espivo, 40km northwest of Moscow in April last year. However, the terms of that agreement were somewhat softer than those offered to BMW under the revised terms of the spics.
A car plant in Russia needs to have annual output of at least 100,000 units a year, and this figure is almost an equivalent of the entire premium segment of the Russian finished vehicle market. Giving that, premium carmakers in Russia need to be treated in a special way.
Speaking in 2019, Vladimir Sherbakov, owner of Avtotor – the Russian carmaker assembling BMW finished vehicles at its existing Kaliningrad plant – raised concerns that BMW would have to leave Russia if it failed to sign a spic with the government for the development of the new plant. Without such an agreement the carmaker would have to agree to a payback period of 18 years, rather than the 10 years agreed under the spic, Sherbakov estimated.
In fact, negotiations on the spic broke down last year when negotiations closed on the terms of the special contracts.
Worsening conditions
However, BMW could use the spic signed by its local contract manufacturer, Avtotor, to allocate some investment and get a limited access to the state aid.
"Our partner in Russia, Avtotor, has signed its own spic," said Teuchert. "This fact could push us towards increasing production in Russia and improving our localisation rate, but all this is still under consideration. Judging from the…proposed operating options, that business case has no chance of being profitable, so the chance of this happening is negligible," Teuchert said.
The government recently announced its plans to tie the point-based localisation system to its utilisation reimbursement scheme in Russia. That decision could significantly increase production costs for the carmakers with low localisation rates.
"So far, we have no solutions," said Teuchert. "The companies with signed spics are still in talks with the government and it is yet to be seen what is going to happen in the next two months [in regard to the utilisation fee]. However, we expect that for all market participants, especially for the premium carmakers, there would be a few opportunities allowing them to expand production and remain profitable," Teuchert said.
According to Teuchert, some carmakers could shut down their production in Russia, switching fully to import supplies, including BMW.
"When signing [first spic agreements] automakers we confident they would get a certain level of state support from the government," said Teuchert. "Now, they are offered a completely different state aid and different conditions. Under the new financial terms, it would not be profitable to operate in Russia, because finished vehicle production in Russia is far more expensive than in other countries," Teuchert added.
The new utilisation fee requirements mean premium carmakers have to raise their prices, which is passed onto the customer.
"Aside from that, the Russian market faces being left without technologies and innovation; everything will be imported from automotive plants operating in other countries," Teuchert warned.