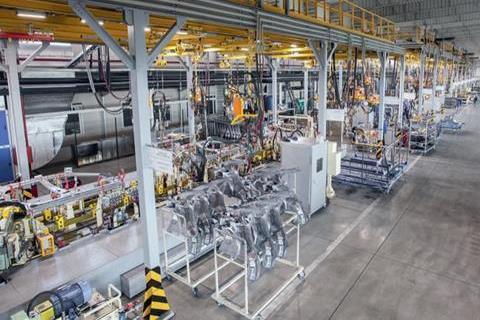 The Russian government is changing the rules of its utilisation scheme, through which it allocates state aid for the reimbursement of fees paid by carmakers that are intended to cover eventual vehicle recycling charges. Carmakers in the country are divided over whether linking the utilisation scheme to the localisation programme is fair.
The utilisation programme was introduced in 2014 and designed to increase demand for new cars (and therefore stimulate Russia's car industry) by offering incentives for the exchange of older models. Customers received a discount on the purchase of new vehicles if they submitted their old car through the scheme.
For the past six years, carmakers have had to pay the utilisation fee for cars built in Russia as well as those assembled from imported semi-knockdown (SKD) kits. Now, the government in Russia has doubled the utilisation fee. Carmakers are obliged to pay $2,500 per vehicle with an engine volume between one and two litres. That makes projected revenue from the scheme through 2020 worth 300 billion roubles ($4.9 billion).
Furthermore, from 2021 the share of guaranteed reimbursement is set to be lowered again to 25% and from 2022 to 0%.
At the same time, under a new system being introduced by the Industry and Trade Ministry, carmakers will only be reimbursed for half of the recycling fee, with the rest organised through a points-based localisation scheme first introduced by the Ministry last year.
Under that system, points will be awarded to carmakers for localising the supply of certain components. Localised engines or transmissions used in vehicle assembly, for instance, will be worth 40 points. OEMs running a research and development business in Russia will score an additional 20 points; and a further 20 points will be granted to those using localised aluminium or electronic systems in their vehicles.
The Ministry of Industry and Commerce stated last year that for carmakers to participate and secure further reimbursement for 70% of their vehicles they would have to collect a minimum 900 in 2019 and 1,200 from 2022 onwards.
Winners and losers
A number of Russian-based carmakers with high localisation rates have expressed their support for tying the points-based localisation system to the utilisation fee reimbursement programme. They include Kamaz, Volkswagen, the Renault-Nissan-Mitsubishi Alliance, Avtovaz and Gaz.
However, others have voiced their opposition, including Avtotor, BMW, PSMA Rus and Volvo Trucks, saying the new scheme would create a situation in which some gained additional market share and funding at the expense of worsening market conditions for others.
The new scheme was heavily criticised because it would leave some automotive plants, especially those with SKD production, with almost no utilisation fee reimbursement.
"The [new system] must encourage market players to do more in the area of automotive components localisation, to increase localisation of the vehicle plants, so they generate more added value in the country," said Russian Industry and Trade Minister Denis Manturov.
Those that would not see full reimbursement include Avtotor's Kaliningrad plant, Toyota in St. Petersburg and Vladivostok-based Mazda Sollers.
Given Avtotor's significance as a state-owned vehicle-maker, it is likely that the Russian government will come up with a new way of compensating the company for its utilisation charges, while Toyota and Mazda might have to raise prices on the Russian market, a source in the Russian automotive industry told Russian newspaper Vedomosti.
The government has already promised that in the coming years it will gradually raise the target for carmakers to gain full reimbursement of the utilisation fee. That may prompt some companies to cut their production in Russia and switch to imports, Vedomosti speculated.