BMW has recently opened a $100m logistics centre next to its US assembly plant in Spartanburg. The 93,000 sq.m facility consolidates two offsite locations and is dedicated to logistics for BMW's X models.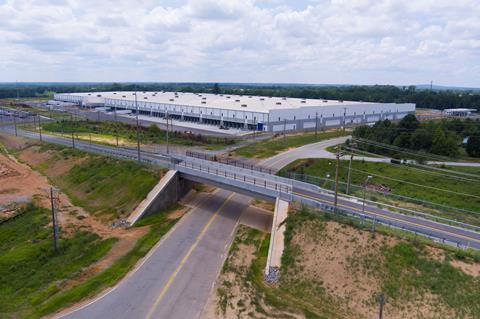 The Logistics Center for X models (LCX) is separated down the middle with one half operating as a container freight station and other as a foreign trade zone. According to BMW, parts and goods, both duty-paid and unpaid, enter the facility on one side to be separated. The duty-paid material is cross-docked and travels by truck to BMW's Consolidated Services operations at the inland port in Greer.
The parts owned by BMW Manufacturing that are duty-unpaid are allowed to enter the foreign trade zone where they are either stored on racks temporarily in the warehouse or moved directly to the BMW plant for production.
"BMW has worked in close partnership with US Customs and Border Protection and appreciates their support in creating this one-of-a-kind warehouse," said Oliver Bilstein, vice-president of logistics and production control.
Autonomous hostlers
To get to the plant from the logistics warehouse the parts need to cross over two roads (Freeman Farm Road and Interstate 85), which they do on driverless yard trucks, called hostlers, across two new bridges built by United Infrastructure Group. BMW said the bridge crossing over the I-85 is one of the longest free-spanning bridges in the state of South Carolina.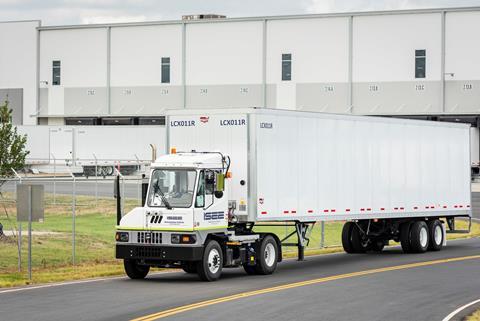 The autonomous hostlers, leave the LCX building through smart dock doors that open when the vehicles communicate with the door.
BMW also uses smart transport robots (STRs) in the body shop at Spartanburg, which autonomously transport parts weighing as much as one ton to their destination. In assembly, meanwhile, BMW is testing a driverless route train that delivers parts to areas in the X3/X4 assembly hall.
BMW has plans to launch an autonomous logistics programme at Spartanburg in the future, which will use 5G wireless technology across the site, enabling real-time connectivity between machinery and equipment.
"Innovation, digitalisation, and sustainability are key success factors for the future of logistics," said Bilstein. "Autonomous transportation, whether with smart robots, tuggers, or even trucks, will make logistics even more flexible and efficient."
Sustainable logistics
Amongst the efforts made to make the logistics facility more environmentally friendly BMW is using lithium battery-powered forklifts and has prepared the roof for the future installation of a rooftop solar photovoltaic (PV) system.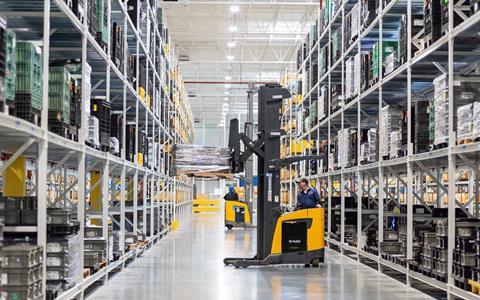 The carmaker also said that it had injected recycled CO2 into a portion of the fresh concrete during the mixing process, which reduced CO2 emissions without compromising the strength of the concrete. That process was developed by CarbonCure Technologies from Canada. Once mixed in the CO₂ undergoes a mineralisation process and becomes permanently embedded.
The BMW Group said by 2030 it aims to have reduced carbon emissions in production by 80%.
"This new facility allows us to consolidate two warehouses and their material into one building, making our processes faster, leaner and more efficient," said Dr Robert Engelhorn, president and CEO of BMW Manufacturing. "Beyond this, the new logistics centre incorporates elements of the BMW iFactory strategy, which defines the future of automotive manufacturing for the BMW Group production network. This building can be expanded, if needed, to accommodate future models."
BMW's iFactory strategy aims to make operations conform to higher standards in flexibility, efficiency, sustainability and digitalisation.