BMW's joint venture in China – BMW Brilliance Automotive (BBA) – has completed the extension of its Dadong plant in Shenyang, taking its footprint to 91 hectares. The facility now includes press, body and paint shops alongside a single-roof, integrated logistics and assembly building with two independent production lines.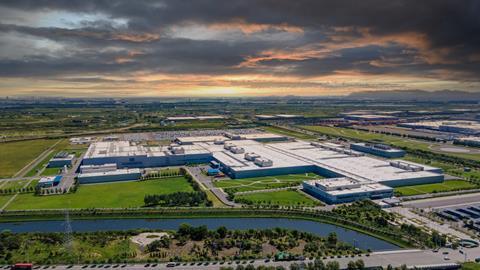 The carmaker is now launching the assembly of the BMW X5 on those lines exclusively for the domestic market. The X5 has so far only been made at the BMW US plant in Spartanburg. The plant in Dadong already makes the BMW 5 Series and X3 for the Chinese market. It is also the only facility to make the fully-electric BMW iX3 for the global market.
"Despite the challenges of the last three years, this complex construction project was completed fully on schedule," said Milan Nedeljković, BMW's board member for production. "Our Chinese production sites are highly significant for the BMW Group. Last year almost one in every three BMW Group vehicles delivered around the world was manufactured in Shenyang."
BMW has a second plant in Shenyang, the Teixi plant, as well as a powertrain plant and a research and development centre. Shenyang is the largest production base in the BMW Group's worldwide production network. Last year the two plants produced a combined total of more than 700,000 vehicles. Tiexi produces the BMW 1 Series and 3 Series as well as the BMW X1 and X2.
Sustainable rail
As part of the extension at Dadong, the plant now has nine railway lines connecting it with the China network, helping to support inbound deliveries as well as the movement of finished vehicles from the plant. Almost 80% of vehicles made in Shenyang are wholly or partially transported by rail, according to the carmaker. The investment means the Dadong plant now has the biggest rail facility amongst BMW's plants globally.
A percentage of those vehicles are taken by rail to the vehicle distribution centre (VDC) at the Meishin (Meixi) ro-ro terminal in Ningbo-Zhoushan port for onward distribution, by rail and short-sea/inland waterway to dealers.
The carmaker has also advanced the digitalisation of processes at the plant, with projects implemented in planning, production and logistics amongst others. BMW said the facility was a pioneer of industry 4.0 car production, enabling it to respond more flexibly to future trends and the manufacture of combustion-powered, plug-in hybrid and all-electric vehicles.
The upgrade in digital processes falls in line with BMW's iFactory strategy to be "lean, green and digital". The carmaker has also been working with digital technology expert Nvidia to prioritise higher performance computer technology across vehicle-making operations.
Franz Decker, president and CEO of BMW Brilliance, said the extension set benchmarks for sustainability, productivity, digitalisation and agility.
This summer, BBA will open a new plant, Plant Lydia, to produce the BMW i3, a fully electric 3 Series made exclusively for the Chinese market.