After significant declines in production and sales through March and April this year, Mexico is restarting its automotive manufacturing, but the country's states are setting different rules regarding ramp up, which is restricting the movement of parts across borders. What could further complicate the situation in the near-term is the US-Canada-Mexico trade agreement (USMCA), which comes into effect on July 1, enforcing complex changes in trade, parts sourcing and labour rules.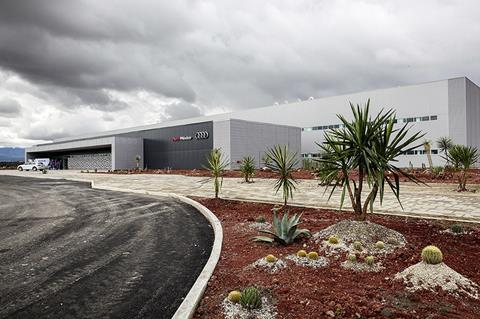 Mexico's automotive production and exports collapsed in April as the pandemic shut car manufacturing plants and decreased consumer demand for new vehicles. According to Mexico's National Institute of Statistics and Geography (INEGI), domestic sales fell by 64.5% to around 34,900 vehicles for the month. Assembly output fell by 25% in March to 261,800 compared to the same month the previous year and as yet unpublished figures for April promise to show further decline. Exports from the country in April fell by 90% compared with March to just 27,889 vehicles.
Mexican president Andres Manuel Lopez Obrador told a news conference last week he aimed to present plans this week to reopen the economy but the dangers of doing so are clear. Last Thursday (May 7), the country reported its largest one-day increase so far in confirmed coronavirus cases, with almost 2,000 new infections nationwide — a 7.2% increase compared to the previous day.
Reopen and reactivate
Alfonso Ruben Mora, head of section at Hyundai Glovis' vehicle processing centre (VPC) in Mexico told Automotive Logistics that the company was waiting for the government's announcement to "reopen and reactivate".
"From a purely logistics point of view, we are still moving containers with parts and some other supplies by vessel and truck, but they are very few and according to countries' authority permits," he said.
According to Kevin Reed, vice-president of supply chain, Royal Power Solutions, the full impact of the pandemic on the Mexican supply chain remains to be seen, however, circumstances remain unpredictable.
"Covid-19 impacts supply at every point in the chain," he said. "Uncertainties include: clear capacity levels throughout the supply chain; unstable and rolling forecasts; the required rates of ramp-up various customers will require in the coming months; reliable information on companies' financial strain levels as cash inflow constraints persist; and the long term macro-economic impacts."
Mitigating risk in Mexico
A further complicating matter is the regional differences in the management of the pandemic, something that is having an impact on the 40% of parts being moved around within Mexico to complete the build of vehicles being exported.
"Mexico, in particular, has a significant impact on the ability to complete a vehicles' build relying on as much as 40% of content being handled inside its borders," said Reed, adding that disruption taxed its purchasing resources.
"Maintaining a current and constant understanding of OEM and customer restart plans, and updating materials requirement planning (MRP) allows us to manipulate our production, stocking and planning priorities to the most up-to-date landscape."
Reed said regular communication with RPS' supply base regarding the industry's plans and status had allowed the company to maintain "reasonably confident risk ratings and prioritise ongoing actions to mitigate strategies to support production". Backing up the point, the importance of EDI call-offs was the biggest concern to last week's Livestream audience.
Regarding the USMCA, which enters into force on July 1, Reed said RPS had not been modifying its strategy or experiencing any significant differences or challenges with the agreement at the moment.
"Ensuring we stay current with our origin and harmonised tariff schedule (HTS) code information has been our focus," he stated.
Under the USMCA, vehicles must have 75% of their components manufactured in Mexico, the US, or Canada to qualify for zero tariffs up from 62.5% under the North American Free Trade Agreement (Nafta).
"If the differences in the USMCA (versus Nafta) drive manufacturing or customer geography changes in the future, Royal has positioned itself to be flexible to support any outcome, so there is no impact to our strategy or service capability," stated Reed.
For more information on the impact of the USMCA and the key risks in the Mexican supply chain, register for our Livestream Hour on Wednesday May 13 – Mexico Automotive Supply Chain in Focus
REGISTER NOW to join the conversation in the Automotive Livestream Hour, our weekly show featuring insight, special guests and the latest developments in automotive supply chain and manufacturing.