Parts shortages caused by the spread of Covid-19 in South-East Asia, compounded by ongoing semiconductor shortages, have forced Toyota to cut September's global production by 40%.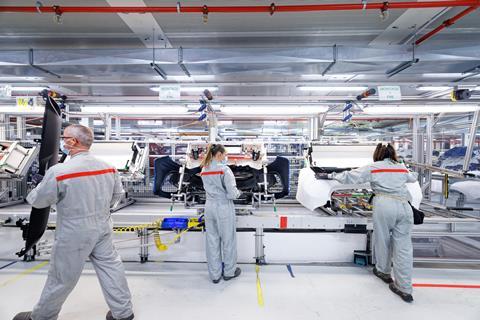 [Updated August 26] Output will be scaled back in Japan, Europe and North America, as well as China, and the carmaker expects to lose output equal to 360,000 vehicles for the month. That follows shutdowns to assembly lines at a number of facilities through the last three months because of similar disruption.
In Europe, the carmaker stopped assembly at its plant in the Czech Republic on August 8 and will restart it on August 29. The Kolin plant makes the Aygo along with the Peugeot 108 and Citroën C1 under an agreement with Stellantis.
Assembly of the Yaris and Yaris Cross will be suspended at Toyota Motor Manufacturing France (TMMF) between August 23 and September 5. Around the same time Toyota Motor Manufacturing Turkey (TMMT), which makes the Corolla Sedan and C-HR will be temporarily suspended between August 20 and September 5.
In total the production loss will be equal to around 40,000 units across those assembly locations.
"Toyota Motor Europe (TME) is working diligently with its supplier network to limit further impact on production and is making every effort to deliver vehicles to our customers as quickly as possible," said a spokesperson for the carmaker. "TME will strive to recover the lost volume and to maintain its European sales plan for calendar year 2021."
In the US, meanwhile, Toyota Motor North America (TMNA) said it was looking at an approximate loss in production of between 40%-60% because of disruption caused by Covid-19 and other "unexpected events" affecting the supply chain.
"Toyota is experiencing additional shortages that will affect production at most of our North American plants," said a spokesperson for the company, adding that manufacturing and supply chain teams have worked diligently to develop countermeasures to minimise the impact on production of what was a fluid and complex situation.
"In North America, we are projecting a reduction of approximately 60,000 to 90,000 vehicles in August," said the spokesperson. "As for September, we are projecting a reduction of 80,000 vehicles, but the situation remains very fluid. We do not anticipate any impact to employment at this time."
In Japan the adjustments to production affect a total of 27 lines across 14 plants, and the carmaker said that would account for around 140,000 units of the overall global loss. As part of the line closures, production of the luxury Century model at the Motomachi plant will be stopped between August 24 and September 30. Corolla production and Rav4 production at the Takaoka plant will also be stopped between September 1-17, among other more scattered closures across the 14 plants.
The carmaker is also taking action to control Covid infections, which have risen sharply in Japan over the last weeks, at its own facilities.
In a statement Toyota said: "The virus is an issue that has the potential to affect all Toyota locations and we are continuously working to further enhance our communication and health checks with staff at all locations. Toyota is actively implementing measures to prevent the further spread of the virus and remain committed to provide timely updates as the situation requires."
Adjustments to production in China are expected to see a further loss of 80,000 units, with smaller losses in wider Asia.
Earlier this month Nissan announced it was having to suspend operations at its Smyrna plant in the US because of microchip shortages from Malaysia caused by a coronavirus outbreak at its supplier's facility there.