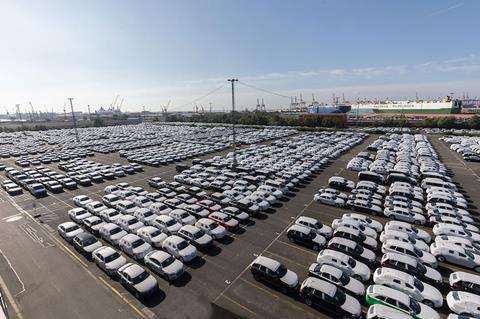 As vehicle manufacturers tentatively restart production in Europe after shutdowns caused by the Covid-19 pandemic, there are concerns that insolvencies in the outbound logistics sector could hamper distribution and sales.
The complexity behind the restart of production in Europe includes risks to the supply and logistics chain, according to a report published this month by the Association of European Vehicle Logistics (ECG), in conjunction with Ultima Media's Automotive business unit. The report – Preparing for the next phase of the Covid-19 crisis – indicates that European supply chain managers are navigating higher levels of sustained risk, including logistics gaps and constraints. Some finished vehicle logistics providers could be among those companies whose financial weakness cause disruption to restarts and later recovery.
Last month Western European vehicle sales were down 53% compared to March 2019, says the report. In markets with lockdowns in place, car sales have come to a virtual standstill. New vehicle sales dropped around 70% in Spain and France, and 85% in Italy. In Germany and the UK, where some restrictions began earlier but stricter lockdowns came in nationwide later in the month, declines were closer to 40%.
The report estimates that in a best-case scenario, sales for 2020 overall will fall by 1.2m units, down 8% from 2019. However, they could fall by 30% on last year, down 5.6m units, if the situation worsens.
Many logistics providers are under intense pressure as a consequence. Shipments of parts and vehicles across all modes are at historic lows and while general cargo carriers and 3PLs have the opportunity to pivot to other sectors – notably food, ecommerce and medical supplies – most vehicle logistics providers are less diversified. As with smaller tier two and tier three suppliers, vehicle logistics providers are often small-to-medium-sized companies, says the report, and many are likely to face liquidity challenges soon.
While most are already taking measures to reduce costs, including mothballing fleets, moving to short-working weeks and furloughing workers, it is unclear how many can survive shutdowns of several months.
"Those carriers likely to disappear first would be smaller local trucking carriers, many of which may have 50 trucks or fewer," says the report.
Following the financial crash in 2009 and the subsequent Eurozone crisis, the vehicle logistics sector already saw many small, family-owned car carriers leave the market, notably in Italy, Spain and eastern Europe. The larger European vehicle logistics providers depend on these carriers for subcontracting capacity and the loss will be felt widely even if there is a mild recovery in volumes, says the report.
However, not every company is facing imminent collapse. Many rail and short-sea car carrier lines can serve other sectors, including trailers and wagons carrying essential food and medical supplies.
Ro-ro lines are also offering vessels as floating garages to store finished vehicles or excess ro-ro trailers with no current retail destination. This extra inventory has also led to a scramble for space at ports, warehouses and vehicle processing centres. Ro-ro hubs such as Antwerp and Zeebrugge, for example, have had space issues storing finished vehicles or trailers destined for other locations in Europe, and many companies are searching for temporary storage space.
Some OEMs are also looking directly for such space, partly in consideration of when retail sales can resume. As the last financial crisis showed, vehicle logistics providers are highly nimble. As family-run companies, most respond quickly to customer needs. Trucking assets may be put in temporary storage, but providers should be able to return them fairly quickly to service. The length of the shutdown and the recovery will put such flexibility to the test – and to a much greater extent than ever before.