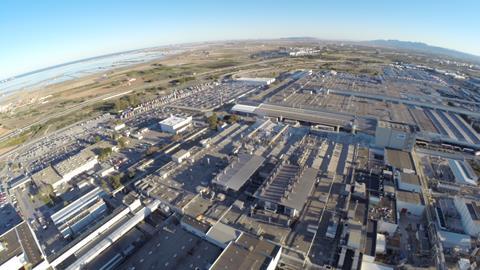 Ford has confirmed that the temporary closure of most of its European plants will be extended until May 4, following an announcement on March 17 that it would be for a number of weeks.
Production has been suspended at the main continental European manufacturing sites of Saarlouis and Cologne (Germany), Valencia (Spain) and Craiova (Romania) since March 19. In the UK, production has been halted at Dagenham and Bridgend engine plants since March 23. The company's operations in Valencia will remain in temporary suspension until at least April 27.
In addition to the extended halt on production, most other Ford operations across Europe have been paused except for a small number of business-critical activities, according to a company statement.
"It's important we give our employees as much clarity as possible on how long the present situation is likely to continue," said Stuart Rowley, president, Ford of Europe. "We are hopeful the situation will improve in the coming month; our plans to restart operations, however, will continue to be informed by prevailing conditions and guidance of national governments."
Speaking to Automotive Logistics, Sue Slaughter, purchasing director, global material cost, supply chain sustainability and diversity, at Ford Europe, said the main rationale for the delayed restart was because the carmaker is continuing to assess the situation in the places it operates.
"Valencia has been particularly badly hit by the virus and this is our priority plant in terms of profitability and customer demand in the pipeline," said Slaughter. "Likewise, Craiova and Otosan [Turkey] are a priority and both put restrictions in place or stopped production later, so restriction will remain for a bit longer based on projections."
Restart review
In terms of when production would restart, Slaughter revealed that was a 'moving target'. "Obviously we will not restart if the local restrictions remain," she said. "Likewise, we know every plant will restart in a reduced manner as we have to ensure the safety of our workers. We need to move work stations so they are at least two metres apart and put screens in place and masks."
Slaughter said it was also clear Ford would not build to stock, but to customer demand, which she pointed out was "very low at the moment".
Outside Europe, the carmaker said last month it was delaying the restart of a car plant in Mexico as well as four truck, SUV and van plants in the US "to help protect its workers." The plants were scheduled to begin reopening in April. The postponement came two days after president Trump extended national social-distancing guidelines to combat the spread of the coronavirus throughout April.
Among other OEMS targeting May to resume production is Honda, which announced it was extending the production suspension for all of its vehicle, engine and transmission plants in the US and Canada until May 1, having begun vehicle production suspension on March 23.
In its statement, Honda said stay-at-home orders in many cities and states was preventing consumers in a number of markets from purchasing new vehicles. As a result, the company said it would continue to suspend production to align product supply with a lack of market demand.
Meanwhile, Fiat Chrysler Automobile (FCA) is planning to restart production at its US and Canadian facilities progressively starting on May 4. FCA, which has experienced a number of deaths related to the coronavirus, said employee health is a top priority.
Automotive from Ultima Media has launched a new weekly series of interactive broadcasts providing intelligence and connections from across the automotive value chain. The Livestream Hour will feature updates on important industry developments, COVID-19-related topics, special guests and experts, as well as behind-the-headlines insight from our editors and analysts.
For more information on the impact of Covid-10 on the automotive industry, please download the Global vehicle demand forecast 2020-2030: The drastic impact of the coronavirus crisis