Ford plans to shut its 1,700-employee engine factory in Bridgend, South Wales, and shift production to Mexico. Declining demand and excess capacity lie behind the decision.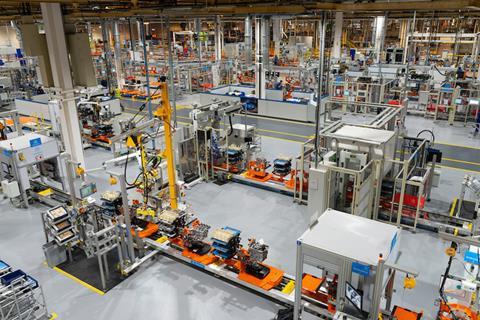 "We have seen global demand for the 1.5-litre, three-cylinder [Dragon petrol engine] decline, so we have additional global capacity and four plants – including Bridgend – making the engine," a company spokesman told Automotive Logistics.
"We will therefore source our European 1.5-litre needs from Mexico where we have more volume currently than Bridgend but enough capacity to take up the Bridgend volume. Running a low volume at Bridgend is just not viable."
He added: "We have been in contact with our suppliers but we have no other news on this front at this time."
In a letter to staff, as quoted by news portal Wales Online, Ford said the planned closure was also because of next year's end of a contract with Jaguar Land Rover (JLR) for production of the AJ engine and the phasing out of the 1.5 GTDi Sigma EcoBoost engine.
"Because no other Ford product is available to the Bridgend Engine Plant, the plant's only product after 2020 would be the Dragon engine," the letter went on. "Demand for Dragon engines is significantly below the volume assumptions that had originally supported the investment into the Bridgend Engine Plant."
The BBC reported planned production of the Dragon engine at Bridgend was halved to 125,000 a year in 2016, though the plant's annual capacity is 750,000.
The end of the JLR contract, which dates from 2008, was announced in 2017.
Then in October 2018 Ford started production at Bridgend of the Dragon EcoBoost, which it described as an all-new, technologically-advanced, fuel-efficient petrol engine. It would debut in the Fiesta ST and completely refreshed Focus models.
The engine is being built on a state-of-the-art, flexible manufacturing facility following £100m ($129m) of investment, the company said at the time.
But in a June 6 statement Ford said it was starting consultations with unions about potential closure of the Bridgend factory.
The company underlined the proposed action should be seen as a necessary step to create a more efficient and focused business in Europe in support of an ongoing global business redesign.
"Creating a strong and sustainable Ford business in Europe requires us to make some difficult decisions, including the need to scale our global engine manufacturing footprint to best serve our future vehicle portfolio," said Stuart Rowley, president, Ford of Europe.
"We are committed to the UK. However, changing customer demand and cost disadvantages, plus an absence of additional engine models for Bridgend going forward, make the plant economically unsustainable in the years ahead."
The company proposed ending Dragon production at Bridgend next February and manufacture of engines supplied to JLR in September 2020, after which the factory will close. Significant efforts to identify new opportunities for it have been unsuccessful, the OEM added.
Ford is offering Bridgend's employees an enhanced separation programme, including help with redeployment to other company sites in the UK, supporting them to find new employers or pursue new opportunities, such as creating their own businesses or training for new careers.
The company estimated the closure would cost it $650m (pre-tax), with around $400m mainly for separation and termination payments to workers.
Ford pointed out Bridgend's workforce of around 1,700 includes nearly 400 employees who signed up to a voluntary separation programme earlier this year and will leave between May and December 2019.