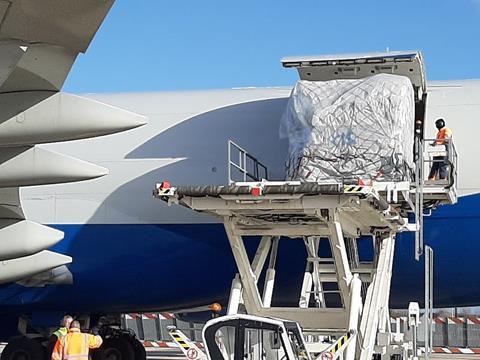 Gefco has transported 750 tons of key automotive spare parts from China to France using eight chartered flights. The consignments included turbo compressors, pistons, control panels, doors and mouldings and were flown in preparation for the restart of assembly plants in Europe.
The logistics provider said it collected parts from several suppliers across China using road transport, which were then consolidated and loaded onto chartered aircraft in Shanghai. The planes were flown to Vatry and Charles de Gaulle airports in France.
Gefco said it had secured storage of the parts in local airport warehouses to ensure fast access for automotive customers as soon as production resumes. It has also secured customs clearances and other documentation and set up a palletised delivery of the parts to production locations in Europe.
To aid manufacturers further in restarting their production, the company has shipped over 2m masks to ensure the health and safety of the customers' employees when production sites reopen.
"The safety and health of our employees remains paramount and I am proud of the commitment of our GEFCO operating teams that have been able to secure charters of this magnitude, while working remotely," said Paul-Henri Freret, executive vice-president, Gefco Air & Sea. "The capability of our teams in China and France operating together across airfreight, warehousing and road to support our customers with time critical shipments is an excellent showcase of our Partners, Unlimited ethos."
Last week Gefco also transported a shipment of medical supplies on special charter flights from Shanghai to Bratislava to help tackle the coronavirus in Slovakia and the Czech Republic.
Gefco chartered two Boeing 787 planes that were temporarily converted to carry cargo. The aircraft were loaded with more than 64 tons of medical supplies, including 6m face masks, 20,000 respirators and 8,000 non-contact thermometers, as well as 60 pallets of vitamins and food supplements.