Automotive analyst Daniel Harrison predicts the Covid-19 crisis will cause a global decline in vehicle sales this year of around 14m units, including both passenger and commercial vehicles, down 15.4% from last year. Forecasting the figures in the latest livestream webinar – Automotive Supply Chain May Update, he said in the best-case scenario the impact of the pandemic would be felt for at least four to five years.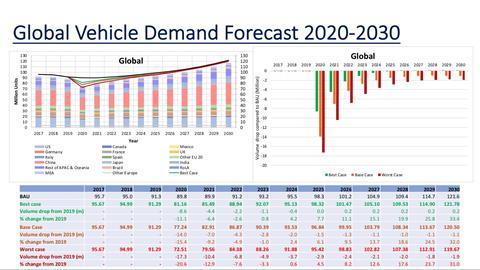 "This is not going to be a V-shaped recovery," warned Harrison. "Putting the figures into context, the 15.4% drop compares with an 8% decline during the financial crash of 2009. "Essentially, it is twice as serious. This is going to be prolonged. It's going to be deeper and more fundamental in terms of volume reduction."
In a grave prediction, Harrison said that in the most likely scenario there will be a permanent structural downturn in volumes, compared to what was previously expected, something from which he said the industry would not fully recover.
Global outlook
In China, the world's number one automotive market, Harrison expects a fall of 3.1m units in the base case scenario for this year, which is a 12% drop from 2019.
However, Volkswagen Group China's operations are showing clear signs of business recovery. All 2,000 Volkswagen brand dealerships are now open again and according to a report in the Financial Times, Jürgen Stackman, head of sales for Volkswagen, expects May sales this year to be at 2019 levels in China. The German carmaker said it suffered just a 2% fall in sales in April in the country.
In the US, meanwhile, Harrison predicts a fall of 2.7m vehicles, which is 16.1% drop from 2019. However, only half of the country suffered what was in effect a full lockdown and as a result of that variation, sales overall were down 38% in March and 50% in April, a lot less than in some other regions for those two months (vehicle sales in Italy were down 85% in March and 98% in April for example). 
Regarding growth drivers, the US government has a strong stimulus programme of around $1.8 trillion with around $500 billion allocated to businesses that are struggling. It is hoped the automotive industry will get a share of that.
Across the EU it is a much bleaker outlook, with Harrison predicting a 19.4% drop, citing the region as one of the most severely hit in terms of demand. The livestream audience agreed with 33% saying Europe would be worst hit by the pandemic. In Germany, however, the relatively short lockdown of five weeks meant vehicle sales fell by 38% in March, and 61% in April. 
Electric incentives
Regarding growth drivers in the country, Germany introduced purchasing incentives of between €4500 and €6000 for electric vehicles (EVs) and plug-in hybrid electric vehicles (PHEVs) in November last year.
"We know the OEMs are lobbying the German government for some kind of automotive industry stimulus, but this has been put back until at least June," explained Harrison. 
However, waiting for the industry stimulus may be the least of the country's worries with Harrison pointing out that the German government is forecasting a GDP contraction of -6.3% this year, not to mention the phasing in of the CO2 emissions targets in 2020, which will further impact demand for combustion engine vehicles but could stimulate it for EVs.
On the topic of industry stimuli, France's president Macron has announced an €8 billion ($8.8 billion) plan to revive the country's automotive industry by making it the European leader in EVs. Macron said the package would include €1 billion in subsidies to encourage purchases of electric and hybrid cars and set a target of France producing a million green cars annually by 2025.
Regarding EVs, Harrison said there was a very strong uptake of the vehicles, which was much faster than previously forecasted. "Governments are using this crisis as an opportunity to implement stimulus programmes to drive this shift to electrification of the automotive fleet."
However, the delay of other technologies, including connectivity, autonomous vehicles, and shared mobility specifically, are likely to be "hit quite hard", he said.
"We know OEM profit margins were previously around 6%," Harrison continued. "This is relatively low, and, of course, likely to be zero, or in losses during 2020. Therefore, there are likely to be major cuts in investment in those longer-term technologies, which are not yet getting return on that investment."
However, with crisis comes opportunity, and Harrison suggested there would likely be moves to gain competitive advantage or strategic lead by acquiring specific companies with advanced technologies, which will be available at a "bargain price".
To watch the full webinar and download Daniel Harrison's slides, please click here
REGISTER NOW to join the conversation in the Automotive Livestream Hour, our weekly show featuring insight, special guests and the latest developments in automotive supply chain and manufacturing.