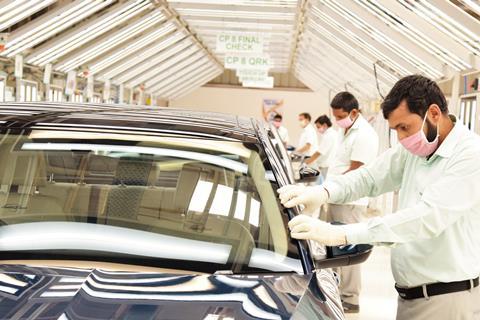 Skoda has resumed vehicle manufacturing in India as coronavirus disruption eases, following improvements in supply chain activities and staff availability. Like other OEMs, Skoda had experienced difficulty sourcing parts and finding enough drivers because of restrictions on imports and the movement of people within India.
Gurpratap Boparai, managing director of Skoda Auto Volkswagen India (SAVI), said: "The post-Covid-19 era will have challenges new and old. However, we need to look ahead with optimism once more. By resuming production, we will be in a better position to react to market demands and consumer needs."
Production recommenced at Aurangabad on May 25 and at Pune on June 1, after a stoppage of almost 60 days. The two factories in Maharashtra state normally turn out 8,000 units per month, meaning that around 16,000 were lost during the stoppage.
Speaking to Automotive Logistics, a spokesperson for Skoda noted that the pandemic affected global manufacturing activity and therefore the sourcing of parts. Regarding personnel availability, containment zones and restrictions on travel between districts that were imposed by the Indian government created difficult conditions.
According to Skoda's representative, the staffing challenge was "severe" during the first four weeks of lockdown. "As regulations were made clearer, personnel availability improved both onsite as well as from our providers," said the spokesperson.
New protocols in place
Now that production has resumed, all activities at the carmaker are taking place under new health and safety protocols, which have been developed by Skoda's medical team in partnership with national and local authorities.
In logistics, these measures include special trucks inward processes, health checks for drivers, inbound vehicle sanitisation, and periodic sanitisation of warehouse floors and material handling equipment. Masks and gloves are mandatory for Skoda employees as well as service providers.
Aurangabad is now operating on a single-shift basis, making the new Skoda Superb which has just launched in the Indian market. The OEM said that production of other model ranges and Volkswagen Group vehicles will gradually resume. At Pune, Skoda is assembling vehicles under the India 2.0 project, which is focused on developing Skoda and Volkswagen vehicles for the Indian market.
Skoda's spokesperson said that some challenges remain, particularly the availability of drivers, who come from different states across the country. "While the lockdown is being lifted in phases, we expect some disruption for at least the next three to four months," said the representative.
Inbound parts supply also remains difficult, according to the spokesperson. Although restrictions on imports are being lifted, the logistics of transporting components from the shipping lines "continue to pose a challenge".