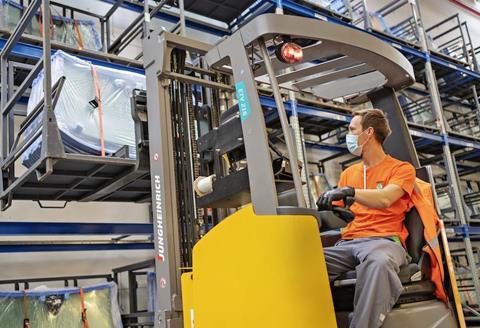 Czech carmaker Skoda is ensuring the global delivery of service parts from its genuine parts centre in Mladá Boleslav, which is now once again operating on three shifts. The 180,000 sq.m parts centre, which is the biggest such facility in the Czech Republic, is one of three European master depots in the VW Group, of which Skoda is a subsidiary. The facility supplies parts to the entire group, equal normally to daily shipments of 28,000 parts to more than 100 countries.
As reported last week, VW Group's Kassel parts centre is also continuing global service parts shipments.
Skoda said this week that across its 20 most important markets around 77% of authorised workshops remained in operation. Closer to home it said that in the Czech Republic 225 of its service locations remained open, while in neighbouring Slovakia, there were still 65 service centres in operation.
Currently around 90 trucks are leaving Mladá Boleslav per day, though the number was closer to 190 before coronavirus restrictions were put in place.
The facility has been operating on a two-shift pattern with only 150 of its full staff of 600 onsite at any one time. This has been relaxed as the main impact of the coronavirus eases off in the Czech Republic. However, Skoda was keen to emphasise that protecting staff remained the top priority. With the backing of the local trade union it has instituted safety measures that include random body temperature measurements before every shift and the supply of respirators or face shields for work along with the ready supply of disinfectants at work stations.
Skoda's production plants in the country remain closed, though VW Group plants in wider Europe are beginning to open from this week.
The company has reported supportive measures to tackle the coronavirus. Its Technical Development department has been producing 3D-printed parts for certified FFP3 respirators, and numerous departments have been manufacturing protective visors. Furthermore, Skoda Logistics is supporting Prusa Research in distributing protective visors, which have also been 3D-printed, to doctors' surgeries and hospitals.