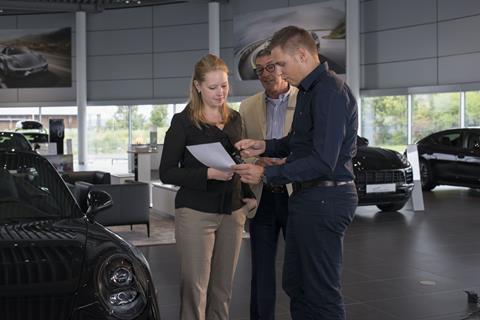 German car dealerships have been given the go-ahead to reopen by the federal government as carmakers across the country restart production. The actual timing for reopening of the dealerships will be determined by individual states.
"This is an important signal to the car dealerships, who can finally get back into the brick-and-mortar business with end customers," said Jürgen Karpinski, president of the German vehicle motor trade body, the ZDK. "In this way, at least part of the largely lost and particularly important spring business can be saved."
Karpinski went on to say that it was important to minimise the risk of insolvency, especially for numerous small and medium-sized businesses.
In March new passenger car registrations in Germany were 38% down on the same month last year, falling to 215,100 units, according to German automotive industry association, the VDA. A total of 701,300 passenger cars were registered in the first quarter of the year, a drop of 20% on the same quarter in 2019.
In terms of exports, the VDA reported a 32% drop to 234,500 units in March, with first quarter exports down 21% to 771,300 vehicles.
The VDA said the measures for containing the pandemic had caused "huge distortions" in passenger car production. German OEMs built 287,900 cars in March (-37%) and production during the first quarter came to 1m units (-20%).
Assembly restart
However, production is now starting up again, with German carmakers VW Group and Mercedes-Benz already assembling vehicles.
Volkswagen restarted production at its Zwickau plant in Germany and at its plant in Bratislava this week. The carmaker said its other plants in Germany, Portugal and Spain, would reopen from April 27, as would plants in Russia and the US.
Audi said it would manage the restart as part of wider restart of VW Group production. Board of management member for production, Peter Kössler, said this was because supply chains, and production and logistics processes, were closely interlinked within the VW Group and with partners at the international level. Vehicle production at the Audi sites will be gradually ramped up from the end of April onwards according to a fixed plan. Engine production in Győr already started gradually ramping up again this week.
Seat has separately indicated it could restart production by the end of April.
Production will be resumed successively at VW Group plants in South Africa, Argentina, Brazil and Mexico in May, said the carmaker in a statement. It has already restarted production in China.
Volkswagen Group Components, meanwhile, has been staging the full resumption of production at its German plants in Brunswick and Kassel plants since April 6, and at Salzgitter, Chemnitz and Hannover, as well as the Polish plants, from April 14. That is in part to safeguard component supplies for vehicle production in China, said the carmaker.
"With the decisions by the federal and state governments in Germany and the loosening of restrictions in other European states, conditions have been established for the gradual resumption of production," said Ralf Brandstätter, COO of the Volkswagen brand. "Volkswagen has prepared intensively for these steps over the past three weeks. In addition to developing a comprehensive catalogue of measures for the protection of our employees' health, we have also forged ahead with the re-establishment of our supply chains."
Strategic projects
Daimler's Mercedes-Benz division has also restarted production on one shift at its powertrain plants in Berlin, Hamburg and Untertürkheim to meet required production capacities at the vehicle plants.
"This applies, for example, to Camtronic production at the Mercedes-Benz plant Berlin, where components for engine control are manufactured for our production in China," said a spokesperson for Daimler. "During the staggered ramp-up, production is initially carried out in one-shift operation. Necessary basic functions as well as future topics and strategic projects continue to be exempt from short-time working in order to be able to take off quickly after the crisis."
That includes production at Daimler's battery factories in Kamenz, where all-electric batteries for its EQ series, as well as drive batteries for hybrid vehicles and 48-volt batteries are produced. Operations at Kamenz will continue as a two-shift operation with completely decoupled shifts.
"After the ramp-up at the powertrain plants, our car plants Sindelfingen and Bremen will gradually start production again, to advance our electric offensive with the production of the Mercedes-Benz EQC and to supply our largest sales market China, in which we already see a significant increase in demand with models that are not produced on site," said the spokesperson.
These models include the GLC SUV, and the S-Class Sedan, for which China was the most important market last year.
Operations at the Mercedes-Benz plant in Kecskemét plant in Hungary, meanwhile, will be resumed gradually from April 28, initially on one shift and gradually ramped up.
In Germany, the opening of Mercedes-Benz showrooms, customer centres and workshops are in accordance with the instructions of the federal state authorities, said the company, with appropriate precautions taken to protect customers and employees.