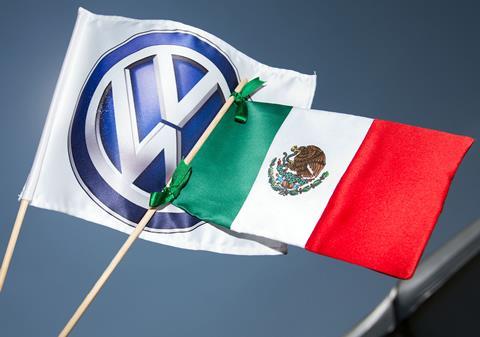 After nearly two months of inactivity because of the coronavirus crisis, Volkswagen's US assembly plant in Chattanooga will resume operations this week. Dr Susanne Lehmann, senior director of production North America, Volkswagen, revealed the plans during the latest Livestream – Mexico Automotive Supply Chain in Focus.
The Chattanooga plant, which currently produces the Volkswagen Passat and Atlas, suspended production on March 21 and temporarily furloughed about 2,500 assembly and maintenance workers on April 11. The factory is now reported to have more than 90 new health and safety measures in place for returning employees, including touch-free temperature checks for everyone entering the plant and the daily provision of masks for staff.
"Chattanooga is confirmed for next week," stated Lehmann but she also discussed how dependent the US plant was on suppliers based in Mexico for both parts and engines. The OEM's engines plant in Silao, Guanajuato started its operations in January 2013 and supplies the third generation of EA888 engines to the Volkswagen vehicle plants in Puebla, Mexico, and Chattanooga, USA as well as the Audi plant in San Jose Chiapa, Puebla, and VW do Brasil.
Making way for Mexican output
Mexico will begin opening some automotive factories from May 18 under a plan unveiled by its government on Wednesday (May 13). The plan relaxes coronavirus restrictions and will mean the gradual recommencement of parts production for supply north of the border to US carmakers.
On Monday (May 18) mining, construction and automotive manufacturing will be considered essential activities but companies must implement strict protocols to protect their workers.
"We now have the light which tells us we're going to get out of the tunnel," said president Andres Manuel Lopez Obrador at a news conference held the day after Mexico registered 353 coronavirus deaths – its highest single-day Covid-19 death toll.
Lehmann told this week's Livestream audience that, with the news that parts manufacturing in Mexico was returning, VW was now preparing for assembly. 
"It is confirmed we can start to prepare everything, including sanitary measures and the normal production measures to begin next week, with full production starting the first week of June," she revealed.
Realigning the restarts
At $93 billion, vehicles were the top import to the US from Mexico in 2018, according to data from analyst firm UN Comtrade. In addition, the Center for Automotive Research reports $60.8 billion, or 39% of automotive parts used in the US, were imported from Mexico in 2019, indicating how much the US depends on supplies for production and vehicles to sell. Automotive restarts between the two countries need to be synchronised as much as possible and for OEMs to communicate their programmes with suppliers.
However, it is not just Mexico and the US supplying VW Chattanooga and with nearly 40,000 global suppliers, Lehmann said it would not be easy for VW because of the varying global rates at which the pandemic has taken hold.
"It is very challenging because we have to regard the markets especially in South America," she said. "In Europe, all this was faced in different time phases as the virus advanced [there] a little bit earlier, so the European markets are reopening earlier than South America. 
Lehmann said the OEM is having to adjust its production programme with every new notification.
"We are trying not to produce anything that does not have fixed clients," she revealed.  "This is a measure that we want to achieve anyway, but it is a little bit difficult for the US which is usually a build-to-stock market.
Stressing the importance of keeping VW's suppliers in the loop, Lehmann said the company was trying to optimise its production programme while keeping suppliers and logistics providers informed online daily. 
"We have been making different production programmes every week now, which are usually bi-monthly," she said. "We want to avoid our parts suppliers suffering from changes, so we try to inform them as early as possible."
The next Livestream event will take place on May 20 and focus on the automotive aftermarket
REGISTER NOW to join the conversation in the Automotive Livestream Hour, our weekly show featuring insight, special guests and the latest developments in automotive supply chain and manufacturing.