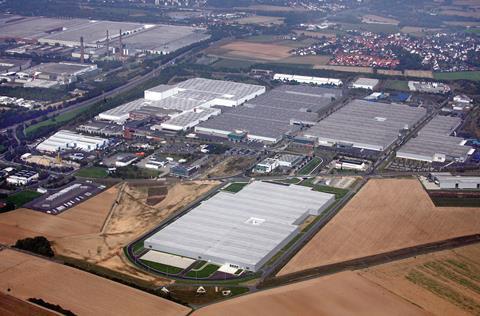 Volkswagen Group is maintaining the supply of genuine aftermarket parts from its original parts centre (OPC) in Kassel, Germany despite the impact of the Covid-19 pandemic.
The carmaker's head of group after sales, Roman Havlásek, said: "Our customers, who include many people working in the health system and food retailing, have to rely on their vehicle more than ever before as a result of the coronavirus crisis. This is why it is so important that our team maintains genuine parts supplies. This way, service stations throughout the world can continue to carry out repair work."
The Kassel OPC normally distributes parts to 25,000 service centres in 86 countries around the world. During normal operations its delivers on average 2,000 tons of parts per day though it is currently distributing around one third of the normal volume to around 60% of the network. In Germany, however, 95% of its 3,500 service stations remain open.
"We are in a daily exchange with our customers and importers to discuss the latest country-specific restrictions," said a spokesperson for the carmaker. "If necessary, we are looking for alternative distribution channels to secure supply reliability."
Equal close contact with parts suppliers thorough inventory management also means the carmaker has been able to avoid any substantial problems in stocking the OPC. "Deliveries are continued and receipt of goods are running on a capacity-oriented and demand-driven level," said VW's spokesperson.
Havlásek thanked VW Group's supplier base for continuing deliveries inbound to the Kassel facility during such a difficult situation.
VW Group aftermarket by numbers
25,000 VW Group service stations globally - 60% open
3,500 VW Group service stations in Germany - 95% remain open
86 countries served by Kassel OPC
1.2m sq.m operating space
220 trucks, 111 railcars and 68 containers leave with parts per day
2,400 people work at the Kassel OPC
Health and safety
The carmaker was keen to stress the safety precautions being taken by and for employees both at the Kassel OPC and the service centres in the network. It said that comprehensive measures to ensure adequate distances and compliance with the applicable hygiene requirements had been implemented. That included a temporary reduction in the number of employees working at the facility at any time and the logistics operations team has been halved. The facility employs 2,400 people. Work procedures have been modified in many areas to ensure adequate distances between employees, and between employees and suppliers, according to the company, and the majority of administrative staff were working from home.
Meanwhile, many of VW Group's service stations are offering customers the possibility of handing over and collecting their vehicle without contact. The company said its service personnel were ensuring safe distances were kept between themselves and customers and that additional hygiene measures were being applied.
"In some areas of aftersales, supplies of genuine parts to repair shops must be safeguarded," said Ulrike Jakob, deputy chairperson of the General Works Council in Kassel. "In these areas, employees are working in line with the protection and hygiene recommendations of the Robert Koch Institute in order to exclude the risk of infection as far as possible. No-contact logistics and the other measures that have been adopted have met with the approval of the employees."