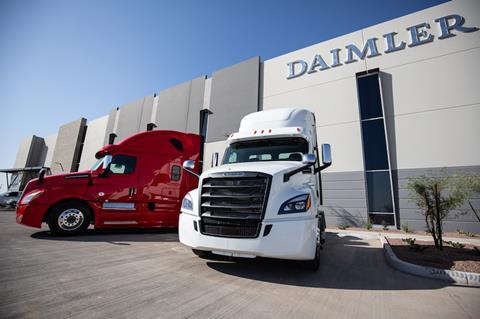 Commercial vehicle maker Daimler Trucks North America (DTNA) has formally opened its tenth parts distribution centre in the region.
Located at Goodyear, near Phoenix, Arizona, the 24,900 sq.m unit stocks more than 10,000 parts and serves over 130 dealers in the southwestern US.
"As part of our strategy to get closer to our customers and dealer partners, DTNA identified the southwest United States as the best location for its next stage of expansion," said Jay Johnson, general manager, aftermarket supply chain for DTNA.
The PDC will also support the company's goal of fulfilling 90% of all dealers' orders for parts in less than 12 hours and a 24-hour turnaround for vehicle repairs.
DTNA has invested more than $100m in its PDC network during the past five years, with the most recent openings being in Dallas, Des Moines and Indianapolis as well as Goodyear.