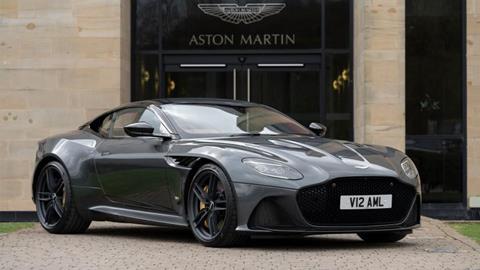 DHL Supply Chain has secured an extension and expansion of its existing logistics contract with Aston Martin to include the British OEM's new assembly plant in St Athan, south Wales.
The third party logistics (3PL) provider has been appointed to manage the full in-bound supply chain at St Athan, where production of Aston Martin's first SUV, the DBX, is due to begin in the second quarter.
The contract includes services such as in-bound transport planning; collection from suppliers in the UK, Europe and worldwide; moving parts between Aston Martin's site in Wellesbourne, central England, to St Athan; warehouse storage and capacity management; pick, load, transport and delivery of parts to the assembly line; and sequencing, kitting, decanting and reworking them, a DHL spokeswoman told Automotive Logistics.
The arrangement also covers reverse logistics, continuous improvement of processes and systems, as well management of new model launches and obsolesce.
Additionally, the 3PL says its current contract with the sports car maker has been extended to the end of 2027 following a successful two-year implementation.
Originally hired in August 2017 for five years, DHL manages inbound transportation, inventory management, warehousing and in-plant logistics to support the brand's assembly plant at Gaydon in central England, where more than 5,000 luxury cars are produced annually.
DHL says its appointment to manage St Athan results from the high levels of service delivered at Gaydon, the company's values, culture, industry expertise and global capacity, along with its ability to help Aston Martin adapt its supply chain for the future.
Mike Bristow, managing director of manufacturing logistics at DHL Supply Chain, added: "We're delighted that our relationship with Aston Martin is going from strength to strength and that we're able to support such an iconic brand on its journey. Our approach offers Aston Martin a one-stop logistics solution that simplifies complex logistics processes and can support all of its future needs."
Jeremy Scoones, Aston Martin's head of sponsorship & partnerships, said: "DHL was chosen as our preferred provider due to the team's proven launch expertise and ability to provide an agile and cost-effective solution across multiple sites. We believe the company is the right partner to support us in delivering our Second Centenary Plan."
The last point is reference to the company being more than 100 years old, having started producing cars in 1913.
Aston Martin has created the St Athan car plant from a former air force aircraft maintenance base. Three super-hangars now house the vehicle assembly area. Pre-production of the DBX began last year with full production to start in the second quarter.