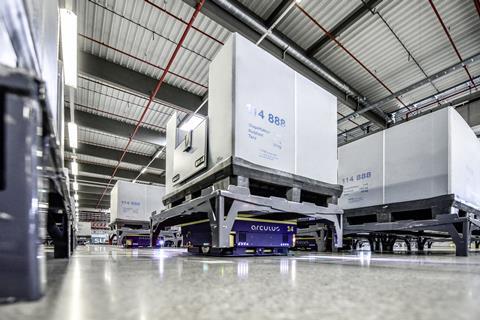 Audi has introduced a logistics system in which automated guided vehicles (AGVs) move containers of parts in sequence to manned pick stations on the assembly line. According to the carmaker, rather than the traditional set up in which employees go to containers of parts to pick in sequence for assembly, the Supermarket 2.0 system reverses the process on a 'goods-to-person' principle. It is being used at Audi's plant in Ingolstadt (Germany) and at the FAW-Volkswagen joint venture plant in Foshan (China).
Audi said it was the first time such a system has been used on a large scale, though it has been applying the principle on a small scale since 2015. As well as enabling the use of different AGVs in the same area, it will reduce storage space by around 25% in the future, said the carmaker.
The AGVs can transport material weighing up to a ton and move at a speed of 1.5 m/second. They roll under the containers of parts and transport them to a fixed pick station in the correct sequence. At each station, a logistics employee prepares the components required on the production line.
There are currently eight AGVs being used in the Ingolstadt Supermarket 2.0 but Audi said that number would rise to 32 by the end of the year. The AGVs have been developed by Audi and technology start-up arculus, and are controlled centrally with Audi's inhouse fleet manager software (Audi Fleet Manager).
"With Supermarket 2.0 and Audi Fleet Manager we are marking an important milestone on the way to smart logistics of the future," said Peter Kössler, board member for production and logistics at Audi.
It is through Audi Fleet Manager that the carmaker is able to bring another benefit to the logistics supporting its vehicle production. Typically, AGV models from different manufacturers cannot communicate and so have to operate on different routes in the factory. Audi said that it is testing a solution developed with the German Association of the Automotive Industry (VDA) to solve the issue enabling it to deploy AGVs with different assets in the same space.
In China, Audi logistics experts have been working with employees from FAW-Volkswagen Automotive in Foshan to set up a similar Supermarket 2.0 system. The system was based on an AGV system from a local manufacturer and customised to the specific requirements of the Supermarket 2.0 principle. It went live in early 2020.
The FAW-VW plant makes the Audi A3, Audi Q2L and Audi Q2L e-tron for the Chinese market as well as various other vehicles of the Volkswagen Group.
Last year Daimler released details of a similar goods-to-people system using an AGV called Bixi for aftermarket parts handling in China.