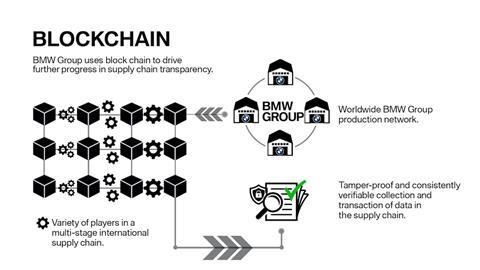 BMW has announced it will expand the use of blockchain technology for the purchasing of components this year. Blockchain creates a distributed electronic ledger that allows parties involved in often complex supply chains to view, share and update critical documents such as bills of lading, invoices, terms and agreements relating to a particular shipment or transaction.
"In 2019, we conducted a successful pilot project for purchasing front lights, said Andreas Wendt, member of the Board of Management of BMW responsible for purchasing and supplier network. "This year, we want to expand the project to a large number of other suppliers."
BMW's project is called PartChain, which it set up last year "to ensure seamless traceability of components – more or less at the push of a button – and provide immediate data transparency in complex supply chains for all partners involved going forward".
The German carmaker said that it wanted to expand the application of the technology beyond the tracking of the parts to enable complete traceability down to the critical raw materials "from mine to smelter", something important in the ethical sourcing of those materials.
"This move is designed to take the digitalisation of purchasing at the BMW Group to the next level," said Wendt. "Our vision is to create an open platform that will allow data within supply chains to be exchanged and shared safely and anonymised across the industry."
BMW said that in addition to blockchain its PartChain project used cloud technologies, including Amazon Web Services (AWS) and Microsoft Azure, which ensured parts to be tracked from origin between all participating partners in the supply chain without risk of manipulation.
The 2019 pilot project already involved two of the BMW Group's total 31 plants (Spartanburg in the US and Dingolfing in Germany), as well as three locations of the supplier Automotive Lighting. This year, the platform will be rolled out to about ten suppliers, said the company.
The latest developments feed into BMW's Mobility Open Blockchain Initiative (Mobi), which was started in 2018 with the aim of enabling supply chain partners to link business processes more closely. The cross-industry initiative currently involves 120 leading automotive, mobility and technology companies and is geared toward establishing common standards and control models for an open platform.
"We want to share our PartChain approach with the initiative and invite interested companies to join the initiative," explained Wendt.
Read more about the application of blockchain technology in the automotive industry