From revamping IT systems to real-time data and Google cloud-based connectivity, digitalisation underpins Renault's real-time visibility revolution – and its plans to offer mobility and software services, according to Jean-François Salles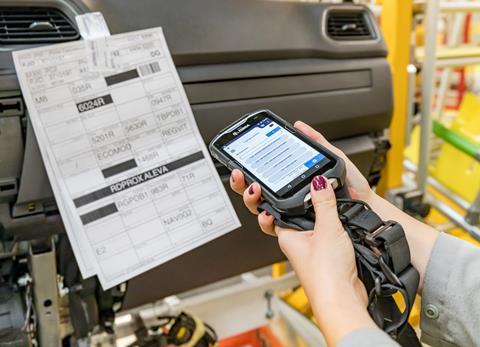 Renault Group has been digitalising many planning and operational processes in its supply chain management and logistics in recent years. That has included updating legacy IT systems, as well as integrating real-time data tracking across inbound and outbound logistics. It is now in the process of building an even more enhanced data layer, connecting more facilities and supply chain partners to the Google Cloud Platform (GCP).
Over the past three years, Renault has specifically revamped in-house logistics IT, including transport, warehouse and yard management systems (TMS, WMS, YMS), along with those related to capacity, sales and operations planning (S&OP) and packaging, according to Jean-François Salles, Renault Group global vice-president for supply chain.
These systems have helped the carmaker improve operations and better capture data across its operations. However, the next important step has been to gain more real-time visibility. To achieve that, Renault has partnered with data and visibility specialist Shippeo, whose platform connects TMS, telematics and API information across a wide truck carrier network to provide real-time locations and predictive transit times. The carmaker is working with Shippeo across its European supply chain for inbound and finished vehicle trucking flows.
"We are working with Shippeo to track every parcel every day, at any time or hour, as well as our vehicles," says Salles.
Shippeo is an online portal to which Renault truck carriers can connect free of charge. For vehicle logistics, Renault and Shippeo are also combining carrier readings with location and quality data via in-vehicle telematics, a technology that Renault has worked with numerous partners and OEMs to establish standards in recent years, including with the Association of European Vehicle Logistics (ECG) and the German automakers' association, the VDA.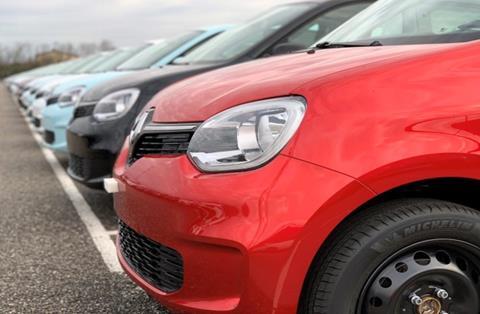 "We are now using telematics supplied via the network for models such as the Clio, Zoe, Captur and others, and this is extremely powerful as we are able to monitor the location of cars in real time with an accuracy of five metres," says Salles. "This mass of data is then combined with Shippeo data to gain an even more real time point of view, as there are times when the vehicle telematics cannot be read, such as when the engine is switched off."
The power of AI in the supply chain
With updated systems and more real time transport data, the next step has been to combine information into a powerful data analytics engine. Renault had already been working with Google for several years on manufacturing processes, as well as logistics projects. In summer 2020, it extended the partnership to connect its industrial data IT systems in manufacturing and supply chain.
The cloud integration includes data from an in-house system that already covered around 20 global plants and more than 5,000 machines and assets, which also tracked several logistics activities, including for part identification. The GCP cloud integrates data from further systems and locations and will be extended across plants, suppliers and distribution. The mass of data is then fed across Google's machine learning and data analytics platform.
"We are working strongly with Google to introduce artificial intelligence tools, and we will soon have a very powerful and complete digital system that gives us the ability to monitor our supply chain end to end, from tier one to 'tier N' suppliers, and also downstream to our dealers," says Salles.
Google is further enhancing its supply chain technology offering, including the launch of supply chain digital twin function that will allow companies to build virtual representations of their business supply chains from different data sources, as well as a new module on tracking supply chain analytics.
Salles says that Renault sees even more potential by aggregating data from its suppliers and using the Google Cloud to help manage stock, improve forecasting and fulfilment.
Renault already uses AI algorithms in forecasting sales and production volumes but is rolling out more tools for logistics and freight. Salles points to a recently developed programme called Optim 3D, which uses AI to predict the highest truck fill rates based on parcel size, weight and positioning in trailers. The tool has applications on logistics network design and route optimisation.
"We are working strongly with Google to introduce artificial intelligence tools, and we will soon have a very powerful and complete digital system that gives us the ability to monitor our supply chain end to end, from tier one to 'tier N' suppliers, and also downstream to our dealers."
Jean-François Salles, Renault Group
Renault has furthermore been using AI-based digital simulations to help plan supply chains in advance of operations, such as replenishment of small automotive parts in its plants.
The carmaker has established a small group within its supply chain department dedicated to operational research and other technology, working with tech companies as well as academics. For example, Renault recently agreed a partnership on supply chain operational research with CERMICS, an advanced research centre at France's prestigious Ecole des Pont ParisTech.
Eventually, Salles would like to see the Google cloud platform expanded to cover all transport providers, especially to encourage data sharing across the supply chain, which he thinks will be essential to address challenges in capacity and service ratios, but also to reduce empty trucking and thus CO2 emissions.
"To achieve this, we will have to share data at some point with different players. We are not there yet, although it is changing, step by step. But maybe not fast enough," he admits.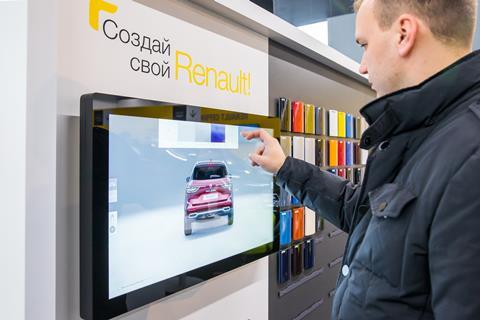 Renault needs a digital supply chain for digital sales
Renault's objectives in supply chain digitalisation and artificial intelligence are like those of other OEMs, such as improving visibility, reducing empty shipments and improving on-time deliveries. The pandemic and subsequent disruption have only accelerated the need for this resilience.
Beyond efficiency, however, Jean-François Salles sees supply chain digitalisation as a cornerstone to Renault's wider business transformation, especially its plans to offer more online sales options and mobility services as part of its Mobilize brand. To be successful in these areas, Salles believes that it will be necessary to "reinvent the automotive supply chain in terms of delivery time, service ratio, cost and delivery methods".
He points to a European vehicle market in which delivery times for vehicles are typically one month or more after customers order a car, even if it's in stock, while many are now used to next day or even same day delivery for online products. "That's just not how automotive works, and it will be a major change [to get closer to it]," says Salles. "One of the most important aspects will be to ensure connections across functions, locations and suppliers, as well as having a very powerful and well-built digital system."
Read part four in our special Renault Group series, focused on sustainable supply chains
The new 'never normal' needs a revolution in supply chain at Renault Group
1

2

3

Currently reading

Every part you make, every car you take, we'll be tracking you

4