Automotive Logistics hears from Karl Friedrich Koch, vice-president, production control, BMW Mexico, about the vehicle-maker's new plant in the country – which has a logistics operation that leads the way in terms of Internet of Things tracking technology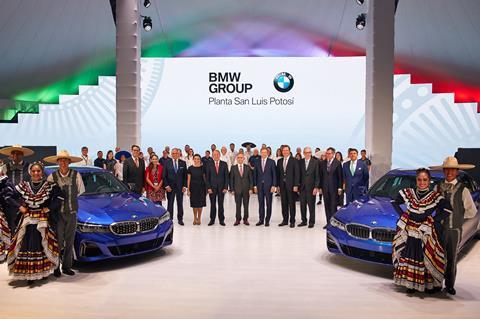 Last year BMW Group celebrated the 25th anniversary of its sales operation in Mexico, during which time it has sold over 246,000 vehicles. More importantly, it also announced the opening of its first manufacturing plant in the country at San Luis Potosí.
At the opening ceremony in June, Oliver Zipse, then BMW Group's board of management member with responsibility for production and now its CEO, described the new factory as an "important pillar" of the group's global manufacturing strategy. "We want to strengthen our footprint in important and growing markets. Plant San Luis Potosí will significantly boost our regional production flexibility in the Americas," he said.
San Luis Potosí joins Spartanburg in the US state of South Carolina as the OEM's twin vehicle production locations in North America, from which it can serve not only regional markets but global ones, including its German homeland. For the Mexican plant, production and distribution is currently focused on the 3 Series sedan, which is also made at the Munich plant in Germany, but production in San Luis Potosí will soon be expanded to include other models.
"We want to strengthen our footprint in important and growing markets. Plant San Luis Potosí will significantly boost our regional production flexibility in the Americas" – Oliver Zipse, BMW Group
BMW has invested more than $1 billion in its new production complex, which consists of a bodyshop, paintshop, assembly hall and warehouses on 3 sq.km of land. Series production began in April last year, with the plant going to one full shift operation in October to produce 240 cars per day. The factory is now ramping up to reach two shifts and 580 cars per day, moving towards its annual production capacity of 175,000 units.
According to Karl Friedrich Koch, vice-president, production control, BMW Mexico, there is even room for further growth at San Luis Potosí. "At the moment roughly 30% of our area has buildings and equipment on – there is a lot of resource [remaining]," he tells Automotive Logistics. Koch compares that to the Regensburg plant in Germany, which makes 350,000 cars per year on just 1.3 sq.km.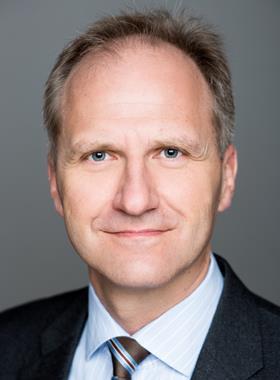 Logistics was one of the major priorities factored into selecting San Luis Potosí as the location of BMW's first Mexican plant, says Koch. "We looked with regard to suppliers, we looked for outbound transportation, we looked for infrastructure – these were all criteria and quite a lot of them are linked to logistics," he states.
At the official opening, Andreas Wendt, board of management member with responsibility for purchasing and supplier network, pointed out: "Our new plant will benefit from short supply routes and the high level of flexibility this gives our supply chain."
Located in central Mexico and about 400km north of the capital city, San Luis Potosí has access to the ports of Lázaro Cárdenas on the west coast and Veracruz on the east coast for moving components and exporting finished vehicles. There are also road and rail links to the the US and Canada.
Getting it right first time
Koch came on board the Mexican plant project in 2015, when the location had already been selected. One critical advantage of a greenfield site like San Luis Potosí was that the logistics in and around the plant could be optimised well before the start of construction.
This involved clever conceptualisation supported later on by digital technology. Describing the layout of the production complex, Koch says: "We were looking for clear and straight value streams without intersections. We have the main entrance for the people in the centre; we have the north entrance for all the material coming in; the logistics assembly is north to south; and in the south we have the vehicle dispatch area for sending all the finished vehicles out."
"The entire plant with its architecture was designed to be optimised for value streams and, with that, for logistics" – Karl-Friedrich Koch, BMW Group
He continues: "From east to west we build the [vehicle] body from bodyshop to paintshop, to start of assembly, so the entire plant with its architecture was designed to be optimised for value streams and, with that, for logistics."
During construction, 3D digital plans were used for the buildings themselves plus all equipment and materials. According to Koch, this enabled BMW to maintain quality management during the process, keep the ramp-up on schedule and avoid "surprises" further down the line. Digital simulation tools were used for volume streams, traffic within the plant and workplace ergonomics.
BMW San Luis Potosí facts
April 2019: series production of the 3 Series began
25,000 vehicles were produced in 2019
35,000 bodies were produced (including some for semi-knocked-down kits and testing)
431 suppliers were used worldwide
130m parts were brought into the plant
18,000 trucks came into the factory
24,000 vehicles were dispatched to three markets
2,700 trucks carried the finished vehicles
Lightening the load
At San Luis Potosí, there was also more flexibility to make decisions on outsourcing certain activities compared with legacy operations in Germany. In line with BMW's global standard, more of the material handling and in-plant logistics have been given over to logistics service providers. Schnellecke takes care of the assembly and warehouse logistics, DHL looks after just-in-sequence inbound transportation and bodyshop logistics, while non-series material logistics is handled by Link. WW Solutions and CSI handle the outbound logistics.
Koch is keen to emphasise that it is the physical aspects of the logistics processes which have been outsourced, rather than supervision, responsibility or optimisation: "Bear in mind, the core processes are still done by BMW: programme planning, production control, material control, transport control, supervision of the physical logistics and transport control of the dispatched vehicles; the core processes are still in our hands."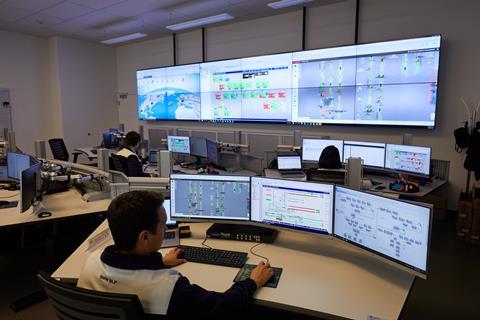 Around 750 personnel from third-party logistics companies are working at the plant, in addition to 250 BMW staff. This excludes additional service providers mostly operating outside the facility, such as transport service providers on contracts.
Almost all the workers from service providers are Mexican, compared with a little under 90% for BMW itself, which still has 30 experts from its global production network working at San Luis Potosí. "We intend to further localise our staff and management in the upcoming years," says Koch.
Bringing together two different cultures was an important preparation for the ramp up process, Koch believes. "From the beginning we were sounding out all the experts with regard to local cultural requirements," he states.
"That was also part of the selection process, for experts to come over here and the same the other way around: every Mexican employee also got insight into German culture, in the culture and heritage of BMW. And then we defined processes and ways forward to really bring these competencies and cultures together," he explains.
North American supply chain
The origin of the parts brought into San Luis Potosí is dictated to a certain extent by free trade rules in the region, with the North American Free Trade Agreement (Nafta) about to be superseded by the United States-Mexico-Canada (USMCA) deal. This will require up to 75% of the value of vehicle content to come from the region; at the moment, under Nafta rules, the figure is 62.5%.
Measured by volume, though, Koch says the factory gets almost 90% of its parts from the North American region, with 12% from overseas; engines are currently imported, as BMW does not have an engine facility in North America. Most overseas parts arrive in Mexico by ship, at Lázaro Cárdenas or Veracruz, but some are flown over from Europe to Mexico's GDL or MEX airports. Air transport is limited to small, high-value components such as electronic systems so that it is economically viable.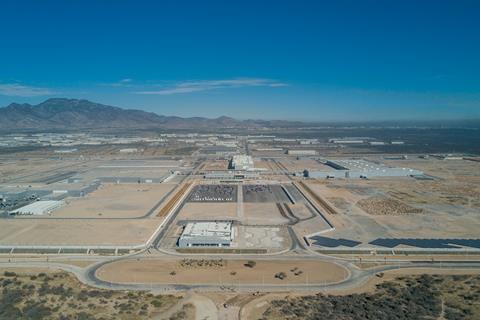 The plant is located in a supplier park (not BMW-owned) called Logistics 2 and many of its suppliers are based there. Even before the plant was built, however, BMW had a strong supply base in the country, with every BMW Group vehicle containing at least one part from its 220 Mexican suppliers. San Luis Potosí is supplied by approximately 400 suppliers in North America, around half of these in Mexico.
The company is not willing to comment on how USMCA might affect its supply chain, but Koch sees potential for further localisation of some components and notes that BMW now has two substantial plants in North America, which would make increasing local inbound volume a sensible strategy.
The inbound supply chain is certainly a complex one. San Luis Potosí caters to a high level of vehicle customisation and can fully build to order, like other BMW plants worldwide. Koch regards this as another sign of advancement: "Up to two or three years ago, 100% of the plants here [in Mexico] were just build-to-stock plants with lower complexity."
According to Koch, the total inventory at the plant is low, though levels vary according to the type of component. For just-in-time (JIT) parts, the plant has about six hours' worth of stock but for overseas parts this rises to between one and two weeks' worth. JIT supplies are transported 100% by truck.
Minimising disruption
Asked whether Mexico's longstanding problems with theft, vandalism and civil unrest put too much pressure on a low-inventory operation, Koch points out that BMW has emergency options available. For example, if a rail issue prevents parts coming in from Veracruz or Lázaro Cárdenas, BMW can use trucks to get around the bottleneck.
Technology also plays a crucial role in making sure that components are in the right place at the right time. At San Luis Potosí, an IT system based on the Internet of things (IoT) enables tracking of part shipments and therefore a rapid response to disruption. "We are able to track all our parts worldwide where they are located and also get all the position data of our parts and trucks online here to the plant, and with that we are able to react quickly," says Koch.
"We are able to track all our parts worldwide where they are located and also get all the position data of our parts and trucks online here to the plant, and with that we are able to react quickly" – Karl-Friedrich Koch, BMW Group
Koch acknowledges that security is an issue in Mexico in general but says that BMW enjoys good cooperation with the local government in San Luis Potosí and links to the central government in Mexico City. He says the different parties are in continuous dialogue on which aspects need improving and what might be done about them.
In the case of a thunderstorm at Veracruz that leads to the closure of the port, for example, BMW has visibility on how its logistics could be affected. "We could easily find out how many parts in which ship are affected, what is our inventory of these parts, do we have to fly emergency parts in order to keep production here running?" Koch explains.
Another example would be a rail issue from the port to the plant. "If we have a railroad problem in between Veracruz and here we could also see which containers with which parts are affected; does it make sense to use emergency trucks from Veracruz to here?" states Koch.
He appreciates the power of the technology: "We have preventative and reactive possibilities now that we wouldn't have without it."
Warehouse-on-wheels
Once the parts arrive onsite, San Luis Potosí uses a warehouse-on-wheels concept for large and high-frequency parts to help maintain the low inventory and enhance logistical efficiency at the 150 docks where they are unloaded. By this method, truck and trailer are decoupled, with the trailer then used as storage space.
"We get JIT supplies from our suppliers and the trailer of the truck is utilised as the last storage [stage] prior to providing the material directly to the assembly line. Close to 70% of the volume of material comes in that way, and roughly 30% of the [remaining] inbound volume is our parts warehouse," Koch explains.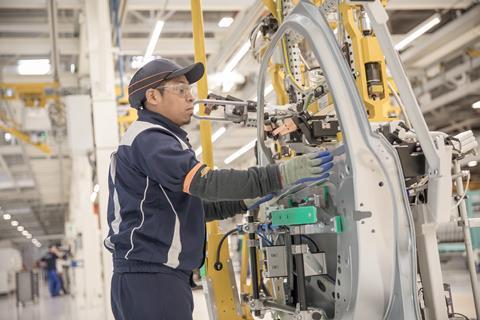 This method is also used at Spartanburg in the US but Koch says that in Europe the truck and trailer tend to remain together only during unloading and loading, which is undertaken by the driver.
"In Nafta, typically there are much bigger transport providers who own many more trailers than trucks and their optimisation criterion is to keep the towing truck running. So, they come in with a trailer, put it to our dock and take another empty trailer and drive immediately out of the plant again," he states.
According to Koch, BMW closely monitors its suppliers to make sure that they are meeting its quality and delivery standards. Associated with the purchasing department is a quality management area where parts are checked for quality and corrective actions can be applied where necessary. In logistics, BMW's electronic data interface with suppliers helps to ensure that deliveries are timely, packaging is appropriate and the daily supply chain is secured.
Getting ready for rail
At the moment, the relatively low volume of output at San Luis Potosí means that all finished vehicles can be transported by truck. However, a dedicated rail track from the factory is due to become operational in the first quarter of 2020, with services to be provided by Kansas City Southern. The first cars transported by rail will go directly to Canada but also to Veracruz, which is already handling vehicles delivered by truck for further export by ship, including short-sea shipments to Mexico's northern neighbours.
When BMW was in the planning phase for San Luis Potosí, it expected to send about 60% of output to the US and about 20% to Europe. In the context of the recent wrangling over trade between the US and Mexico, Koch says that BMW will continue to deliver to the US market but will also diversify.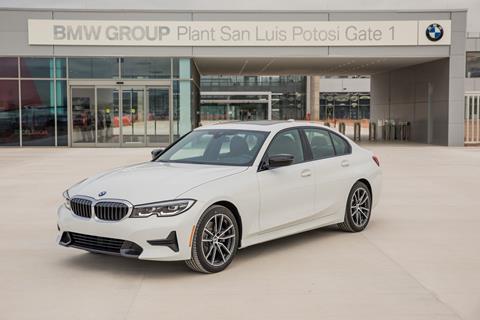 "We will also increase our areas of distribution from three markets at the moment to 30 markets worldwide during the next year. So, if problems arise between Mexico and the US we could easily shift these cars to global markets worldwide," he explains.
Tracking technology is used for inbound and outbound logistics, providing a useful means of tracing stolen vehicles or simply gaining information on standing time at the ports, which carries a risk of dirt and contamination
According to Koch, San Luis Potosí is leading the way with tracking. "It will become a standard but in that regard San Luis Potosí is at the moment the most advanced BMW plant in the production network. And I think with quite a lot of technology we are also on the leading edge worldwide." (See box below for more details.)
Reaching full production
According to Koch, the key objectives for San Luis Potosí in 2020 are to ramp up the volume and integrate new models. In particular, there will be a new car produced for the first time anywhere in the world, which can be taken as a vote of confidence in the capabilities of the plant and its personnel. The engineering and industrialisation processes will be done completely in Mexico, unlike for the 3 Series (for which Munich was the lead plant, ramping up half a year before the launch at San Luis Potosí).
"This requires additional competence [and] engineering background," confirms Koch. "And, of course, with ramping up the production volume and going to a second shift model we need stability within the production and in the entire supply chain."
Koch will continue to lead San Luis Potosí throughout the ramp-up process and he seems eager to see the project through: "It started on time, we're working on time and we have a lot of space still left in reserve for further ramping up this plant."
He says: "For me it was definitely a highlight of my professional life to be part of the management team from the first sketch of the plant towards ramping up to series production over all phases."
Modern factory, modern technology
While BMW's German plants remain at the heart of its global production and logistics network, its newer factories worldwide benefit from being equipped with some of the latest technology from the start, including digital systems. According to Koch, in certain aspects San Luis Potosí is more advanced than the plants on home territory – and elsewhere.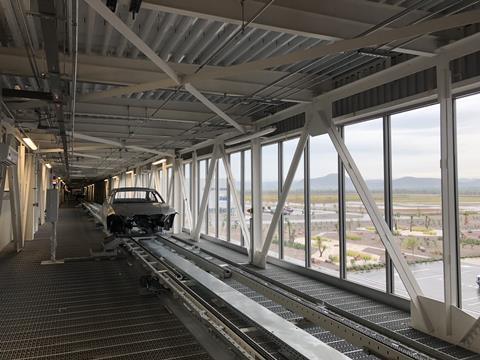 "I think for logistics points, we are really at the top notch with regard to tracking our inbound and outbound supply chain [using IoT] and with regard to overall production control," he says. "We have here a central production room where we are able to digitally control the entire plant and all production in every technology, in every area and we have full transparency."

Furthermore, there is a high level of automation in terms of production technologies and the factory operates a paperless system in assembly.

The factory does not use wearable technology such as exoskeletons but this is because of the design of the production flow, which includes such ergonomic advantages as vehicle underbodies being rotated so that they are easily accessible by line personnel. "We don't have any ergonomically critical work within the plant," says Koch.
"Another field of utilisation using IT is in smart maintenance, with condition monitoring as a base for preventative maintenance in order to minimise the downtime of all our automation equipment," he states.
For logistics, the factory has automated storage and buffer systems, recently installing three stacker cranes and racking. The supplier of this equipment, Germany-based Lödige Industries, has said that the additions are useful because the bodyshop, paintshop and final assembly line are in separate buildings. The systems are fed from a central high-bay warehouse, connected to the different shops by bridges equipped with conveyors.
"This allows for accurate in-sequence and in-time delivery of car bodies for painting and assembly despite differences in throughput rates," said a spokesperson for the supplier.
The fully automated central car body storage unit can retrieve 180 cars an hour, with total capacity close to 500, and contributes to sustainable production at San Luis Potosi.