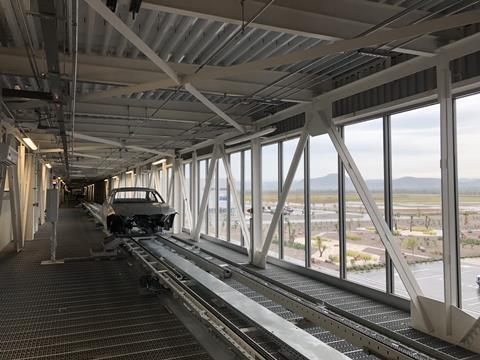 BMW has introduced automated storage and buffer systems at its new plant in San Luis Potosi, Mexico, for more efficient, demand-based production.
Supplier Lödige Industries said the additions, which include three stacker cranes and racking, are necessary because the bodyshop, paintshop and final assembly line are in separate buildings. They are fed from a central high-bay warehouse, connected to the production plants by bridges equipped with conveyors from Lödige.
"This allows for accurate in-sequence and in-time delivery of car bodies for painting and assembly despite differences in throughput rates," said the supplier, which is based in Warburg, Germany.
The fully automated central car body storage unit can retrieve 180 cars an hour, with total space for close to 500, and contributes to sustainable production at San Luis Potosi, added Lödige, which has been providing material handling services to BMW for more than 30 years.
The German OEM formally opened the assembly plant last June to produce the new generation BMW 3 Series for markets worldwide. Its design capacity is up to 175,000 units per year.
In a forthcoming interview to be published in the April-June edition of Automotive Logistics magazine, Karl-Friedrich Koch, vice-president of production control, logistics, at BMW Group Mexico, explains that the latest supply chain and production technology is central to production at the San Luis Potosi plant.
"We are really top notch with regard to tracking our inbound and outbound supply chain, and with regard to overall production control," he says. "We have a central production room where we are able to digitally control the entire plant and production in every area, and we have full transparency; those are the logistics and production control top issues."
In the interview Koch goes on to explain how the plant has a high level of automation and that processes are paperless. "And another field of utilisation of IT is in smart maintenance, with condition monitoring as a base for preventative maintenance to minimise the downtime of all our automation equipment."
The carmaker had a strong supplier base established in Mexico before construction of the $1 billion-plus factory began; even then every BMW vehicle contained at least a part from one of the group's 220 Mexican suppliers.
"Our new plant will benefit from short supply routes and the high level of flexibility this gives our supply chain," said Andreas Wendt, management board member responsible for purchasing and supplier network, at the opening ceremony held in 2016.
The future of the automotive market in Mexico will be discussed in detail at the forthcoming Automotive Logistics Mexico conference, taking place in Mexico City this month.