Nissan North America is now managing its inbound and service parts deliveries with a transport management system (TMS) supplied by optimisation technology provider Agillence.
"Agillence's TMS will give Nissan NA the ability to reduce planning cycle times and help find cost-saving opportunities," said Steve Jernigan, senior director, SCM Logistics, Nissan NA.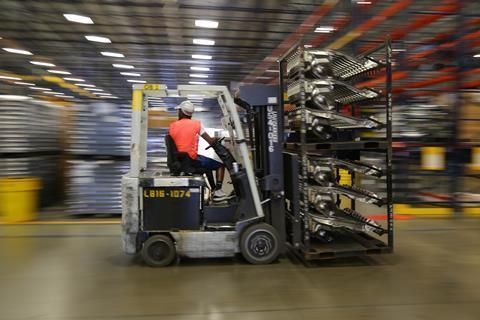 The Agillence TMS comprises two specific digital tools: the Agillence Lean Logistics Optimizer (Allo) and the Agillence Logistics Management System (Alms). The first tool simultaneously optimises network design, frequency of delivery, routing and stowage. It also creates optimal dock and driver schedules. The second takes those results and creates operational data for shipment monitoring and automated freight bill invoicing. Alms also has the ability to manage shipments in a crossdock network.
Agillence said the combination of the software tools would support continuous improvement according to a "plan-do-check-act" operation (see schematic). Agillence also has built-in crossdock management, which it said provides "real-time, end-to-end, part-level visibility and control" of OEMs and tier suppliers' multi-tier crossdock networks.
Managing disruption
The need for greater transparency and real-time planning in supply chain logistics is currently paramount in the automotive industry as it continues to deal with disruption to the inbound supply of parts and their distribution to the aftermarket. There are ongoing shortages in the supply of semiconductors and global containerised parts movements are being hampered by port congestion, resulting in unpredictable transit times. There are also disruptions to the supply chain as a consequence of the war in Ukraine. Those factors are testing OEMs' existing IT systems, which are designed to support stable build-to-stock vehicle production and rapid service parts deliveries.
As a result, production schedules have been put into disarray and lead times for the delivery of finished vehicles are longer. According to market analyst Eaton inventory levels in the US at currently around 1.1m units, equating to a 25-day supply, 70% below pre-Covid levels. There are also delays to the delivery of parts to aftersales.
In response, carmakers and their suppliers are looking for digital tools to mitigate the supply chain disruption.
"Dynamic route planning has become a norm with these new challenges," said Srini Paruchuri, vice-president of customer strategy and solutions at Agillence. "Agillence's TMS provides customers the opportunity to adjust routes on a daily basis within the limitation of lead time parameters… [and its] partial network optimisation functionality helps customers to do quick redesigns without affecting the whole network.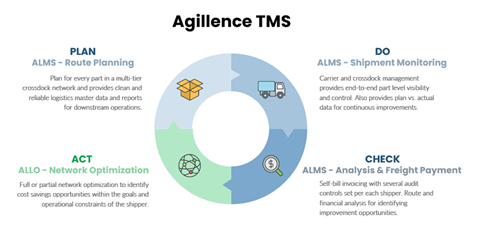 Paruchuri said that users can simulate potential logistics environment changes and quickly come up with alternate plans.
"Our customers are able to do quick redesigns to combat different challenges like increased transportation rates, fuel surcharges, facility handling costs and driver shortages," said Paruchuri. "They are even making strategic mode changes because of challenges like driver shortages to cover long direct routes via the crossdock network."
With regard to the aforementioned disruption to ocean container movements, Agillence is partnering with visibility platforms FourKites and FreightVerify, which provide real-time tracking of vessel movements.
End-to-end visibility
The impact of the semiconductor shortage caught many carmakers by surprise, and that was because of a lack of visibility beyond the tier one level. This is also the case when it comes to securing ethically sourced material supplies for the production of battery cells. Carmakers are now more aware of how important visibility of tier N suppliers has become and efforts are being made to bring those subcomponent suppliers closer to production through vertical integration. In the meantime, transparency of remote suppliers is critical.
According to Paruchuri the Agillence TMS supports planning and managing parts in the tier N supplier network. "The ability to manage at the part and container level allows the flexibility to mirror ordering patterns, including level layer or full pallet shipping," he says.
Agillence's TMS uses load level ETA data from visibility platforms FourKites and FreightVerify in calculating shipment level ETAs in a multi-tier network. According to Paruchuri, the software is able to provide reliable shipment-level visibility and control by providing a single logistics overview of different segments of the network and the processing times at intermediate facilities.
"With reliable shipment-level visibility and control, OEMs and tier one suppliers are able to reduce inventory buffer and reduce premium shipments," said Paruchuri. "From an IT perspective, with crossdocking functionality, the Agillence TMS reduces the need for multiple WMS systems and integration of TMS and WMS systems."
Dynamic responsiveness
It is clear that the automotive supply chain has changed significantly through the disruption of the last two years and the 'new normal' demands new, more responsive digital tools, according to Paruchuri. He added that the technology enabled logistics teams to spend less time on mundane tasks and more on cost-saving opportunities and the fact it was built from an automotive user's perspective meant there was no need for those users to be IT experts.
Paruchuri also said transport capacity constraints meant there was an ever-greater need for more efficient and dynamic management with limited resources, and that 20 years of building and perfecting Agillence's tools was now paying off.
"We are really excited with the Nissan North America opportunity, which further validates our automotive specific TMS solution," said Paruchuri.
Nissan NA's take up of the Agillence TMS follows a similar contract that Toyota Motor North America signed in July last year.