Toyota Motor North America (TMNA) has chosen software from optimisation technology provider Agillence to plan its inbound and service parts logistics networks. The carmaker will now be using Agillence Lean Logistics Optimizer (Allo).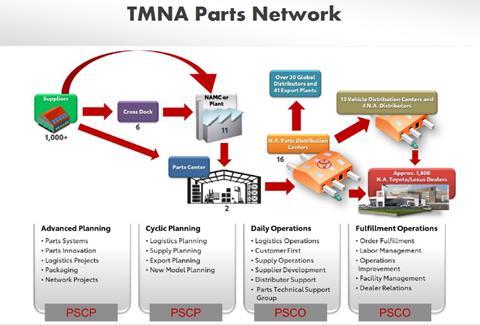 "Allo will provide TMNA the ability to find cost-saving opportunities in advance planning, cyclical planning and service parts delivery planning," said Steve Brown, vice-president, Parts Supply Chain Planning at TMNA. "Allo also will enable the reduction of planning cycle time."
The Allo tool is used to design and plan high-frequency lean logistics networks that involve crossdocks and milkruns, which makes it a good fit for automotive applications. The software supports network design, route scheduling, and dock door scheduling at facilities, as well as resource scheduling, according to Agillence. That includes strategic route validation, frequency of pick-ups and inventory and cost validation. The tool also analyses volume and packaging information along with inventory and transport modes and rates. It does so on a multiuser platform that can exchange data with other outside platforms.
According to Agillence, when deployed in conjunction with the Agillence Logistics Management System (ALMS), the tool supports the Plan-Do-Check-Act (PDCA) continuous improvement cycle for customers.
"We have been hard at work to transform lean philosophy into science and offer it as the next generation SaaS and cloud-based logistics optimisation software," Srini Paruchuri, vice-president, Customer Strategy and Solutions at Agillence. "We are really excited about the TMNA opportunity."