No one thought the new year was suddenly going to be free of supply chain disruption. The coronavirus continues to cause problems, most pronounced at the moment by cross-Pacific port congestion and the increasingly serious shortage in the supply of microchips. But disruption of this kind is recurring and may even get more frequent in the future.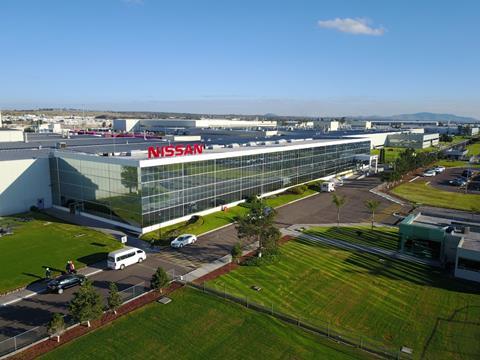 Carmakers are working hard to minimise the impact of the current disruption and learning lessons for the future in the process. For Nissan's division in Mexico, the two important instruments at its disposal are a talented and agile workforce, and the latest digital supply chain technology. At this week's Automotive Logistics and Supply Chain Live conference, Nissan Mexicana's logistics experts talked about the importance of putting the latest digital tools in the hands of the right people.
"If you want to have the best-in-class logistics you need to have systems but you need to have robust skills in your people so they can manage those systems," said Arlin Nájera, logistics director at Nissan Mexicana.
It is that combination that enabled Nissan's plants to be among the first in Mexico to restart production at the beginning of June last year, with the mandatory safety and inspection protocols in place.
Real-time tracking
There are a range of digital logistics tools available to Nissan to improve real-time tracking of inbound parts and outbound vehicles, including GPS, digital transport management systems (TMS) and RFID. When combined they improve visibility.
"Tools [like these] enable us to get more information in real-time and that allows us to collaborate with our logistics partners to make decisions as soon as possible for the good of everyone – I mean win-win decisions," said Dayan León, senior manager of logistics at Nissan Mexicana. He added that digital tools that were able to help predict events and identify the best responses in advance would enhance the agility with which companies were able to respond to disruption.
Nissan is working on a number of such tools in-house. They include an RFID system for the tracking of packaging and a TMS for the tracking of transport, as well as a tool to improve truck and container fill rates. The carmaker is also using a simulator tool for domestic vehicle distribution. In addition to which, its transport partners are using GPS to track containerised parts and railcars.
On a global basis the carmaker has been using virtual replicas of physical systems, or digital twins, for a range of applications, helping it to meet production targets, reduce bottlenecks and for battery testing. The use of digital twins in production and logistics has led to significant cost savings for Nissan, as well as effective long-term planning, ensuring key performance indicators (KPIs) and demands are met.
Those KPIs are a big part of the overall Renault-Nissan-Mitsubishi Alliance objectives of ensuring cost and quality in the delivery of its products, said Nájera.
"Nissan is part of a huge alliance with Renault and Mitsubishi and they have a system to evaluate the performance in production around the global called the Alliance Benchmark," he explained. "So all these KPIs that are measured in the system rely on a very robust supply chain. The financial [departments] work very closely with their counterparts around the world sharing the best practices among the teams in the global forums."
Communication and collaboration
Beyond Nissan's external organisation, working practices have been put to the test during the Covid crisis and the company has been developing new ways to communicate with its partners. That again has relied on the latest digital technology, such as with chat applications that have enabled faster problem solving across regions.
"We see that logistics can be impacted for one country or another because [one location has] a problem. We need to be able to see that trend in an easy way," said León.
Faster decision making and closer collaboration are the key to keeping teams informed and able to respond to disruption now and in the future, according to León.
"The drastic drop in capacity and volume across all the markets in 2020 taught us that we need to truly go to cross collaboration in the supply chain to enable shared knowledge of capacity," he said.
That shared knowledge is a keystone in the carmaker's strategy of dealing with future disruption.
"We know we will have issues with microchip and semiconductor shortages," said Nájera. "All of the automotive industry will be impacted by these external factors so our job is to do what we have to do in order to prevent and minimise the impact."