Renault's digitalisation of manufacturing and logistics processes has grown into what it describes as an 'industrial metaverse', bringing greater transparency and efficiency to the thousands of steps needed to supply parts and actually make a vehicle.
The automaker expects the metaverse to save it €320m ($338m) in costs by the middle of the decade and to cut vehicle delivery times by 60%, while lopping off 50% from the carbon emissions generated in the manufacturing process.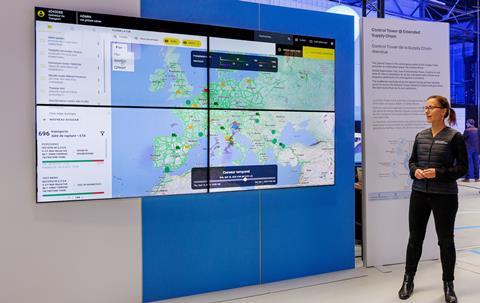 Renault held its latest Tech Industry Day in November at its Flins plant, northwest of Paris, and demonstrated through 32 use cases how cloud-connected manufacturing and logistics is delivering efficiency gains.
While the cloud and metaverse are becoming common terms in the automotive industry, Renault says the connection of 8,500 pieces of equipment across all production lines is the cumulative result of efforts that started in 2016.
To do this Renault developed its own data capture and standardisation platform that fed granular information into the industrial metaverse to help improve performance. That process is now known as the ID@Scale project. The carmaker then modelled all of the factories processes and assets into digitalised replicas, or digital twins.
About 1 billion pieces of data are now generated a day and processed into meaningful information that makes it easier to manage manufacturing plants. Information on stamping machine vibration to is helping to refine predictive maintenance and cut downtime caused by equipment stoppages and repairs, while paintshop analysis is helping to drive greater precision in applications on panels with two or more colours.
It also did this for the supply chain, which has its own digitalised version, which is controlled in real time by the control tower.
Control tower transparency
As with the factories, Renault made a digital twin for the supply chain. Its control tower uses this technology to supervise the extended supply chain and send alerts in real time about parts shortages or risks to transport operations, as well as proposing contingencies to manage those problems.
Supply chain manager, Tudor Mirica, said the industrial metaverse gave visibility that is making it possible to plan workarounds in advance when disruption looks likely.
"We can find out if a late truck could potentially result in a delay in our factory, so we can look at alternative solutions," said Mirica. "We are managing trucks today but later we will also add maritime and trains. If we find there is a shortage of some part, we can re-route the truck or source from another factory."
This use of digital tools to avoid or at best alleviate supply chain and production disruption marks a change in strategy at Renault born of the daily disorder caused by the Covid pandemic.
As made clear last year in an interview with Jean-François Salles, global vice-president of supply chain at Renault Group, Renault and the wider alliance have taken measures to improve visibility of supply chain operations up and downstream, and integrate this information into wider strategic decisions on manufacturing, parts sourcing and new business services. Real-time visibility across the business is now critical to maintaining operations, while having predictive insights on supply costs and lead times is a clear strategic advantage.
Renault has been integrating its supply chain visibility across multiple system and IT layers. It is working with visibility and tracking expert Shippeo for real-time updates on critical parts in its logistics – which is playing a key role in its logistics control tower – as well as with Google on a wider cloud integration to develop artificial intelligent solutions.
Circular economy at Flins
Car making will come to an end at Flins in early 2024 after seven decades during which the plant produced some of the most iconic and best-selling Renault cars. However, the plant is being converted to head up Renault's recycling business – The Future is Neutral – which will recover parts for reuse, car refurbishing and EV battery recovery.
Renault intends to scale a closed-loop, automotive circular economy to tackle the scarcity of resources and inflation in the price of raw materials, at the same time as the automotive industry as a whole moves toward greater electrification.
Renault said that more than 11m vehicles reach the end of their life in Europe every year. Those vehicles are made up of around 85% recyclable materials, but that is recyclability is not being exploited. The carmaker said the aim of The Future Is Neutral is to "maintain the value of parts and materials for as long as possible and to enable the industry to achieve a much higher rate of recycled automotive materials in the production of new vehicles".
Renault Group's aim with The Future Is Neutral is that the portfolio of businesses under it reach a €2.3 billion turnover, with an operating margin of 10% or higher, from an investment of roughly €500m until 2030.
Edited for Automotive Logistics
Renault Group vice-president of supply chain Jean-François Salles will be a speaker at the 2023 Automotive Logistics & Supply Chain Europe conference, March 21-23 in Bonn, Germany.