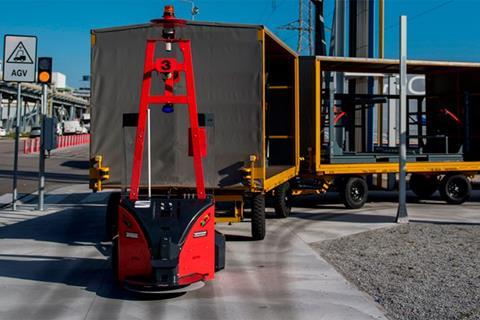 Spanish carmaker Seat says it is the first industrial manufacturer in Europe to use automated guided vehicles (AGVs) with the Slam (simultaneous localisation and mapping) navigation system outdoors.
Introduced at the company's Martorell assembly plant, the AGVs make deliveries more efficient and cost effective, reduce stockpiling at both the starting and destination points, and cut down on traffic inside the factory, according to the company.
Thanks to the Slam navigation, the vehicles are not guided by magnetic tape or wires, as is often the case in warehouses and industrial sites. Instead, the AGVs navigate their route by using a map they generate through software, algorithms and sensory information.
Deployment of vehicles using Slam requires no construction, maintenance costs are reduced, the AGVs are more versatile and they can adapt to new routes, according to Seat.
"The implementation of outdoor AGVs enables us to optimise production and logistics processes in an efficient, sustainable and connected way," added vice-president for production and logistics Christian Vollmer.
Each outdoor AGV with attached carriages makes up a 25-metre convoy with a maximum payload of ten tonnes covering routes of 3.5 km.
Altogether, the eight AGVs operating at Martorell travel 240 km a day on two routes between the press and metal shops, where parts such as hatches and doors are delivered.
Their introduction means greenhouse gas-emitting trucks and tractor are no longer needed, giving an annual CO2 saving of 1.5 tonnes per year.
Vollmer also said: "In recent years Seat has been introducing pioneering innovations in the field of logistics and this is another example of our commitment to becoming a benchmark for Industry 4.0."
In addition to Slam navigation, the AGVs use a 4G connection and their batteries can be charged wirelessly and, the OEM argues, progresses the goal of making Martorell a smarter factory through the Internet of Things (IoT) in an industrial environment where process automation and digitalisation is key.
The outdoor AGVs were introduced with input from compatriots ASTI Mobile Robotics and phone company Telefónica.
In total, Seat has 200 AGVs delivering parts inside assembly workshops at its Martorell and Barcelona factories.