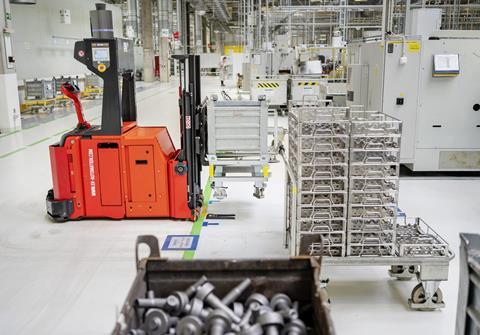 Skoda has taken another step in the digitalisation of logistics processes at its transmission plant in Vrchlabí in the Czech Republic with the autonomous ordering and delivery of parts for the CNC processing line at the facility.
CNC machines make complex parts using a coded programmed instruction and without a manual operator. Those machines are now also ordering the parts to be produced automatically and they are being delivered by robots using sensor technology to navigate the way.
According to Skoda, the parts ordered are placed by a warehouse operative in a load carrier. The automated delivery vehicle then picks up the carrier and takes it to one of the CNC lines. On its return journey, the robot takes an empty load carrier with it and automatically reports back to the parts warehouse.
"By taking this new automation step, Vrchlabí is continuing to strengthen its position as one of the most state-of-the-art production facilities in the industry," said Christian Bleiel, head of component production at Skoda Auto. "The collaboration between man and machine is a future-oriented concept that we are consistently pursuing and that will further increase the productivity of this high-tech site."
The automated system, which uses internet-of-things (IoT) technology, enables a continuous supply of parts that the carmaker said increases manufacturing productivity and improves safety as logisticians are now longer required to enter the production areas. The machines are supplying 50,000 parts a day.
In recent years Skoda has introduced a number of Industry 4.0 technologies at Vrchlabí to boost productivity and last year plant manager Ivan Slimak told Automotive Logistics about the huge shift towards digitalisation at the facility and the implemention of automated technology including handling and transport robots.
This most recent developments builds on work Skoda introduced in 2018 when it began using automated robots to deliver parts between the metrology centre and the CNC processing machines.
Skoda said the costs of automating the process of delivering parts from the logistics warehouse to the CNC line would be recouped in around three years.
The Vrchlabí facility plays a key strategic role in component production and is one of the most modern sites within Volkswagen Group, according to Skoda. It makes around 2,200 DQ automatic direct-shift transmissions every day during normal production.