DeGould has installed one of its automated digital inspection systems at Toyota's assembly plant in the US state of Mississippi. The Auto-compact system is checking all Corolla vehicles leaving the plant for damage, equal to 170,000 vehicles a year.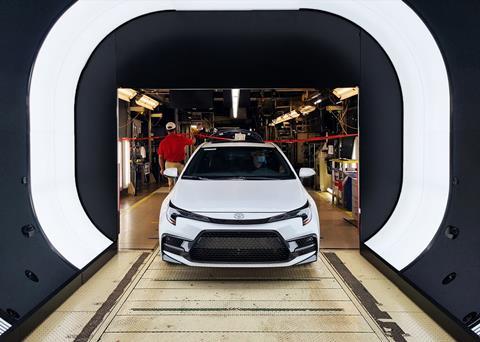 The Auto-compact system, which can operate either as a drive-through system or over a conveyor, uses nine cameras to capture ultra-high-resolution images together with five analysis cameras detecting vehicle damage. It was upgraded in November last year to include Sony camera technology. The upgrade allows DeGould to capture very high-resolution images (61 megapixels) that combine with a dent arch-lighting system and its AI-algorithms to detect any damage to vehicles leaving the plant.
High quality capture
Sony is providing Alpha 7R IV and Alpha 9 II cameras (and lenses) for the system. It is also providing a proprietary remote software development kit (SDK) to integrate the full-frame Alpha cameras into DeGould's vehicle inspection system. According to the company, collaboration with DeGould's AI means the Sony SDK supports the software transfer of the images from the camera to a separate folder for AI processing and analysis.
That will enable Toyota, and DeGould's other OEM customers, the chance to review the analysed data and determine plant quality, assign damage liability and ultimately correct the issues that may be causing damage in the first place. The use of the system is not restricted to assembly plants but can be used at any stage in the outbound distribution of vehicles, including at vehicle distribution centres and ports.
"Identifying damage through vehicle inspections at logistic chain handover points, including ports, is essential," said Ed Jones, CEO of DeGould.
Prior to the agreement with Toyota, DeGould supplied logistics provider Wallenius Wilhelmsen (WW) with the Auto-compact system for vehicle inspection at the UK port of Southampton.
Jones explained that the digital vehicle inspection systems provide an accurate and automated solution at liability handover points during production and transit, which in most cases is often a manual and time-consuming process. Using an automated alternative to manual inspection can improve the quality and efficiency of the damage detection process and remove the potential for human error, according to Jones.
Moreover, according to a report from management consultant firm McKinsey, AI-powered quality inspection can increase productivity by up to 50% and defect detection rates by up to 90% compared with manual inspection.
DeGould, which his based in the UK, announced in November last year that it had secured £6m ($8.2m) to support the acceleration of the supply of its systems.
Read more about DeGould's vehicle inspection technology
Growing trend
The use of automated image-capture technology, rather than manual inspection, is rapidly becoming the norm among carmakers and logistics providers keen on making the delivery of vehicles to market more efficient and the detection of damage more accurate.
Average damage rates across global brands are anything between 2-10% for finished vehicles, with an average cost per claim of over £250 ($328) and often much higher for high-end models.
There have been a number of applications of similar technology recently. Logistics service provider Gefco is in middle of a one-year trial of an automated vehicle inspection portal developed by Lyon-based company, ProovStation. The system uses AI-powered automotive damage scanners to optimise bodywork inspections and speed up vehicle deliveries.
The port of Hamburg is also now using an automated vehicle inspection system called carpodX, developed by the CAR Consulting Group, to more effectively process finished vehicles before being shipped.