The port of Hamburg is now using an automated vehicle inspection system called carpodX, developed by the CAR Consulting Group, to more efficiently process finished vehicles before they are shipped.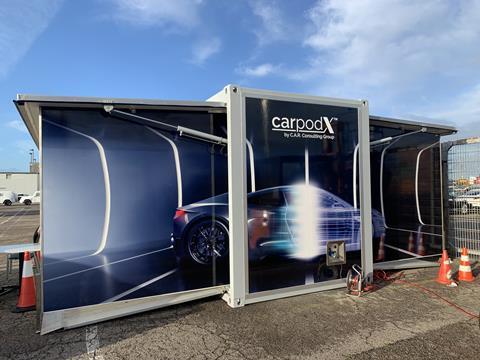 CAR Consulting Group provides services and technology for vehicle inspection, onboard supervision, risk and damage management, quality audits and claims management. The company has equipped a drive-through container with 43 cameras that take more than 4,000 photos of a vehicle in just three seconds as it is driven through. It is the first time the finished vehicle inspection technology has been used in day-to-day operations.
Unikai, the ro-ro operations subsidiary of Hamburg port's terminal operator, Hamburger Hafen und Logistik (HHLA), has set up the carpodX system at the O'Swaldkai multipurpose terminal. The port of Hamburg forecasts the processing of 150,000 new and used cars this year.
"After a successful test phase, we are now using the carpodX in the normal course of vehicle inspection," said Hartmut Wolberg, managing director of Unikai. "The system documents every detail of the vehicles that roll through the system during normal operation. This allows us as a port logistics company to concentrate on handling instead of taking thousands of manual reports and painstakingly archiving them." 
As it is installed in a container, the carpodX digital inspection system can be moved to wherever it is required, making it a flexible and robust plug-and-play piece of equipment, according to CAR Consulting. There is no restriction on the number of vehicles that can pass through the container, and they can do so alongside other operations so that there is no reduction in productivity.
"This technology also facilitates a more transparent handover procedure whereby eventual damages are assigned to the correct liable party," said Timo Pasila, managing director of CAR Consulting. "We are thereby making the vehicle handover inspection and the claims process more fair."
Furthermore, the images captured can be used to develop artificial intelligence (AI) that will eventually automate the process of damage detection and reporting, according to the company. At the moment, terminal operatives are using the system to identify any actual vehicle damage, but that process is helping to develop a software that will eventually detect and report damage automatically.