Finnish technology company Unikie has teamed up with tier one supplier and contract manufacturer Valmet Automotive to deploy an automated parking system at Valmet's assembly plant in Uusikaupunki.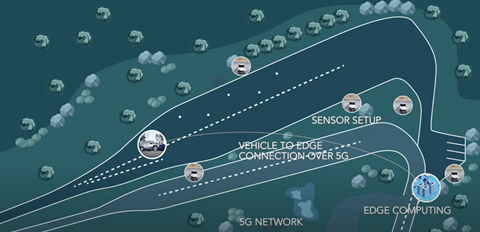 Valmet has been running tests with Unikie for the autonomous movement of finished vehicles from the assembly plant to the pick-up point for outbound delivery using infrastructure only. The vehicles do not require autonomous capabilities or sensors themselves, just the ability to steer, change gears, accelerate and brake.
The vehicles are controlled using edge computing on a 5G network to connect with lidar sensors installed on the route between the plant and the point of departure for onward delivery. Those sensors transmit information to guide the vehicles.
The Automated Factory Parking technology being trialled at Valmet was also shown at the recent IAA Mobility show in Munich, Germany last week. Unikie is a member of the German Automotive Association (VDA) and is working on the automated valet parking system in a joint project with BMW, Ford, Mercedes-Benz, Jaguar Land Rover and Cariad, a technology subsidiary of VW Group. The project also involves tier suppliers Bosch, Valeo and Continental/Kopernikus.
"At the Uusikaupunki plant, we have been utilising the same automated valet parking technology as in Munich but in an industrial environment indoors and outdoors, which presents new challenges for the system," said Vesa Kiviranta, chief business officer for automotive at Unikie.
"During our testing, we have had various weather conditions and have proven that the system can operate with reliability even in the pouring rain," Kiviranta continued. "By taking our solution into use our customers can achieve remarkable improvements in efficiency and significant cost savings."
This follows Valmet Automotive's official opening of a battery plant in Uusikaupunki last week, marking the beginning of high-voltage automotive battery modules and battery packs output.
Valmet intends to oversee a significant expansion of its electric vehicle battery-related manufacturing, hoping to expand the plant further, running with four battery production lines in 2024.