BMW is investing €800m ($855.8m) in its San Luis Potosi plant in Mexico to produce new generation electric vehicles based its Neue Klasse EV architecture from 2027.
In support of that, the carmaker is setting up its own 85,000 sq.m battery assembly facility on site, which will account for €500m of the overall investment and employ an additional 500 people.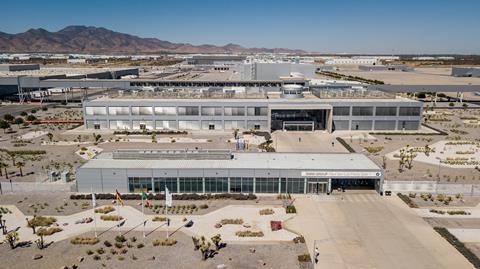 Locating battery assembly at the point of vehicle production is now a priority for carmakers looking to avoid the risks of moving a growing number of lithium-ion batteries over longer distances, an expensive and potentially dangerous logistics challenge. Lithium batteries are classified a dangerous goods, and the weight of finished lithium batteries also adds to costs and capacity constraints.
"As the high voltage battery is quite heavy it makes sense to shorten transport distances as much as possible," said a spokesperson for BMW. "That's why we establish battery assemblies near or at our plants."
Added to which is the fact that the Neue Klasse platform necessitates that the high-voltage battery is integrated directly into the vehicle structure, according to BMW.
"With this new investment, our plant in San Luis Potosí will play a central role in BMW Group's transition to electromobility," said Harald Gottsche, president and CEO at BMW Group Plant San Luis Potosí. "The company is increasing its commitment to Mexico and its stake in our facility, not only due to its strategic location but, above all, to a solid work team, which, in less than four years after starting operations, already produces three models that supply 74 global markets and stand out for their quality."
The San Luis Potosi plant already makes the BMW 3 Series, 2 Series Coupé and the new M2. BMW planned to hit annual output of 90,000 last year but was constrained by the shortage in the supply of semiconductors. In a recent interview with Automotive Manufacturing Solutions, Gottsche said it had been planning production with a limited 10-day window. He said San Luis Potosi, like other BMW plants around the globe, was allocated semiconductors from a task force at BMW in Germany subject to model priority and the available supply, something that had been a daily challenge and which had knocked back BMW's production goals.
Logistics and location
When it opened the plant, BMW said that its decision to site the plant in San Luis Potosi had a lot to do with logistics, including supplier location, outbound transport links and infrastructure. The plant is located in a supplier park called Logistics 2 and many of its suppliers are based there. Geographically, it is located in central Mexico, with access to the ports of Lázaro Cárdenas on the west coast and Veracruz on the east. There are also road and rail links to the US and Canada.
While BMW retains control of logistics processes, a lot of the material handling and in-plant logistics have been given over to logistics service providers. Schnellecke Logistics currently takes care of the assembly and warehouse logistics, while DHL looks after just-in-sequence inbound transport and bodyshop logistics.
BMW is currently setting up a digital control room at the plant to give it greater visibility over the arrival of components. That will give it a clear view of what is being packed into containers at the suppliers or at BMW in Germany. Gottsche said that brough significant savings in shipping as the hire of returnable containers for carrying parts results in additional charges after day 14 of continuous use.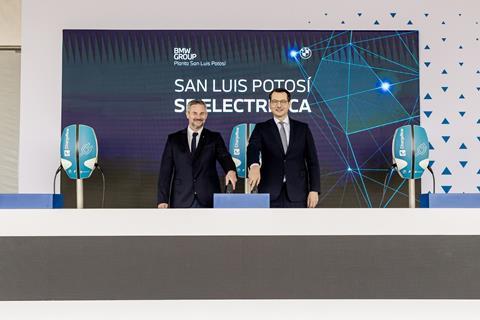 "We created these indicators on where the containers are, where the consumption is and we also used that to put into cloud data and also created artificial intelligence algorithms," he said.
If a container is being put onto the ship in Europe, BMW can predict up to four weeks before with an accuracy of 99% whether that container will be at risk of incurring higher storage costs.
"And with that we could basically reduce our monthly rental cost for these containers from €120,000 ($117,000) to less than €30,000," Gottsche said.
Around 90% of parts sent to San Luis Potosi are sourced in North America. The carmaker is currently not divulging whether that will be the same for Neue Klasse or from where the battery cells will be supplied.
Cleaner cells
BMW said the Neue Klasse will use new, round lithium-ion battery cells developed specifically for what will then be the sixth generation of BMW eDrive technology. The new battery format will increase energy density by more than 20%.
Production of the cells will reduce carbon emissions by up to 60%. BMW said that was a result of cell suppliers relying on energy from renewable resources and a greater use of recycled, lithium, cobalt and nickel.
Added to which, the San Luis Potosi plant has just received an award for its progress in the UN Sustainable Development Goals Challenge, which highlights companies with good results in meeting environmental targets.
The decision to start production in Mexico follows BMW recent announcement that it will invest $1.7 billion in the expansion of its Spartanburg plant in the US, with $1 billion of that earmarked for the production of EVs and $700m for a new battery assembly centre in nearby Woodruff.
The first Neue Klasse vehicles will be produced at the Debrecen plant in Hungary in 2025, after which BMW's Munich plant will also begin production.