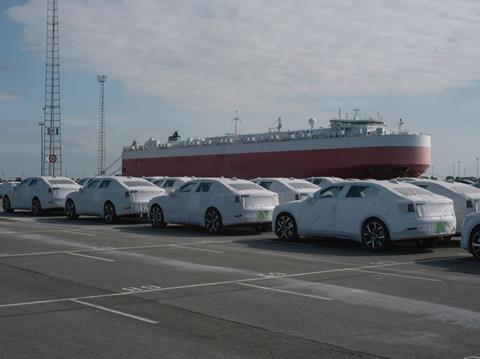 The first European deliveries of the Polestar 2 performance electric vehicle (EV) have been imported through the port of Zeebrugge in Belgium. Customers in Sweden and Norway will receive their vehicles in August with deliveries also following to Belgium, Germany, the Netherlands and the UK. The vehicles are being moved by road to a central hub in Belgium for final preparation and pre-delivery inspection before heading onwards to the destination markets.
The Polestar 2 is an all-electric five-door fastback retailing at around €58,800 and is seen as a rival to the Tesla Modal 3.
Six hundred Polestar 2s were imported through Zeebrugge on June 26 aboard WW Ocean's vessel M/V Torrens. The vehicles are made in Luquiao, China by the joint venture between Volvo Cars and its owner Geely. Production begain in March this year. The two-door Polestar 1 went into production in Chengdu last year.
"This is a big moment," said Thomas Ingenlath, CEO of Polestar. "We are one step closer to getting Polestar 2 to our first customers in Europe. The arrival of this first shipment is proof of just how committed we are to our customers and how our operations are working at high efficiency around the world."
Polestar said it was looking to change the face of automotive retail by establishing 'Polestar Spaces' in launch markets this summer. Staffed by non-commissioned Polestar Specialists, the spaces will allow customers to test drive the Polestar 2. Test drives can be booked online or in person and may also be conducted from home or at a number of planned test drive events, said the company.