Ford's Cologne Electric Vehicle (EV) Center will help the carmaker reach its goal of carbon neutrality across its European facilities, logistics and suppliers by 2035.
The carmaker invested $2 billion into transforming its German plant in Niehl, Cologne which was first founded in 1930. The investment equipped the 125-hectare site with a new production line, battery assembly and tooling and automation. It will have an annual production capacity of more than 250,000 EVs, helping Ford towards its goal of a run rate of 2m EVs annually by the end of 2026. The first EV set to be produced in the plant is Ford's new Explorer model, its most recent EV which follows on from the Mustang Mach-E, E-Transit and F-150 Lightning. The F-150 Lightning electric pick-up truck will begin to be exported to Norway next year, beginning with a limited number of the Lariat launch edition.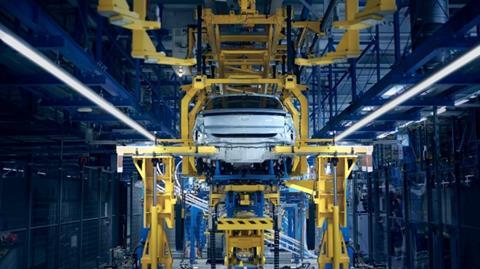 All power required to run the facility is 100% certified renewable electricity and biomethane, according to the company. Heat required to warm the plant and processes will also be carbon neutral through the energy provider's offsetting of emissions. The heat is generated by an external power plant and waste incineration plant, provided through a steam network for Ford. The local energy provider plans to reduce their operating emissions for the heat delivery by 60% in 2026 and eliminate them completely by 2035. Once fully operational, the centre will be certified as carbon neutral. Ford said this will be audited regularly by an independent party.
In April, Ford outlined how it is making its EV and battery supply chain more sustainable, including through the direct sourcing of raw materials from mining companies aligned with its supplier auditing specifications. Carmakers around the world are looking to decarbonise the supply of materials used in their battery EVs at the same time as ensuring sources comply with ethical labour standards. Reducing overall vehicle lifecycle emissions includes cutting carbon from the supply of materials, which accounts for a sizeable portion of a battery EVs carbon expenditure.
Ford has reported investment of $50 billion between 2022 and 2026 to develop and manufacture EVs and batteries. It is aiming at targeted annual production of 600,000 EVs by late 2023 and more than 2m by the end of 2026. The carmaker aims to make EVs account for half of its global sales by 2030.
Last week, Ford named Liz Door as its chief supply chain officer, where she will take a leading role in securing Ford's operations and improving quality and digitalisation across the supply chain.