[Article updated April 26] Ford will begin exporting its F-150 Lightning electric pick-up truck to Norway next year, beginning with a limited number of the Lariat launch edition. The vehicles are made in the US at the Rouge Electric Vehicle Center in Dearborn, Michigan and it is the first time the F-150 Lightning is being sold overseas.
The carmaker has not provided figures on how many of the Lighting Lariat vehicles it would be making nor how many would be allocated for sale in Norway.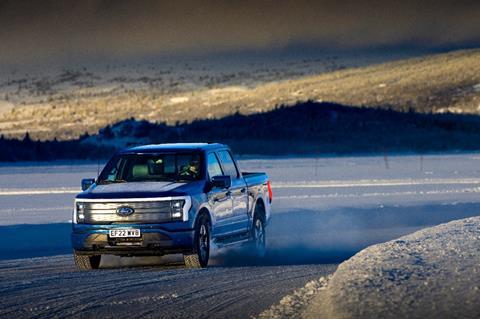 Earlier this year Ford said it is planning to double annual production of the F-150 Lightning in Dearborn to 150,000 to meet demand.
As well as planned increase of the Ford F-150, the carmaker has started to increase production of the Mustang Mach-E at its Cuautitlán stamping and assembly plant in Mexico. That vehicle is also sold in Norway and became the best-selling EV in Norway in 2021. Ford also sells the E-Transit van in the country.
Like the Mustang Mach E, the F-150 Lightning will be distributed across 70 EV dealers in Norway for onward delivery to the end customer.
The Mustang Mach-E is shipped from Veracruz to Ford's European hub in Antwerp via the newly merged Antwerp Bruges port, then through a flexible combination of short-sea vessel, train and truck to Norway.
The delivery route for the Lightning Lariat has not yet be contracted but Ford will ship from the US to a northern European port of entry for transhipment to Drammen in Norway.
In 2022, 80% of the 174,000+ vehicles sales in Norway were EVs, led by Tesla, VW and Skoda. Ford sold just over 4,200 Mustang Mach-E units.
Ford reported a sales increase of almost 30% in February, equal to just more than 157,600 vehicles. Of that number, EV sales were up 68% in the month to more than 3,500.
In the US last year Ford manufactured and exported more vehicles that any other carmaker, according to the latest data from analyst S&P Global Mobility. The analyst said it had assembled more than 1.8m vehicles, which amounted to 130,000 more than the nearest rival carmaker. While 80% of those were sold in the US, the carmaker also exported 260,000 vehicles, 65,000 more than its nearest rival.