GM is planning to turn its St Catherines engine plant in Ontario, Canada into a facility producing Ultium Drive units for its electric vehicles (EVs). The carmaker said it plans to manufacture more than 400,000 EV drive units a year at the plant.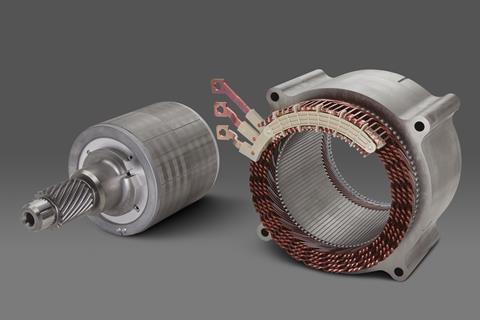 GM Canada is currently at the planning stage with federal and Ontario governments on the investment, with further details on the amount invested and the timescale for completion of the retooling to be shared at a later date.

"The drive units will initially support BrightDrop production at CAMI, and both Silverado EV and Sierra EV production at Factory Zero," said a spokesperson for GM Canada. "Ultium's flexible architecture will power a range of vehicles and we will share more information about what plants and models St Catharines will supply when we get closer to launch."
GM is also investing $760m in its Toledo assembly plant in Ohio to make Ultium Drives.
The units are powered by batteries produced by GM's joint venture with LG Energy Solution – Ultium Cells. Ultium Cells is currently making batteries at a facility in Warren, Ohio, which opened in August last year. It is also building a battery plant in Spring Hill, Tennesse and planning another in Lansing, Michigan that will open in 2024.
GM opened Canada's first full-scale EV assembly at the CAMI plant in Ingersoll, Ontario with technology company Brightdrop last year, following an $800m retooling of the plant. The first BrightDrop Zevo 600 light commercial vehicle rolled off the production line on December 5, with the first batch of vehicles delivered to DHL Express.
Factory Zero, meanwhile, opened in November 2021 and was GM's first fully dedicated electric vehicle assembly plant, a full transformation of the former Detroit-Hamtramck assembly plant in Michigan.
GM said 2023 will be "a breakout year" for vehicles powered by its Ultium Drive. They include the electric Cadillac Lyriq, the Chevrolet Equinox, Blazer and Silverado EVs, and the electric GMC Sierra and Hummer EVs.
"The St Catharine's team produces engines and transmissions for many of GM's most popular vehicles, including full size trucks, SUVs and Corvette, and we are very excited to announce our plans to supply critical drive units as well," said Marissa West, president and managing director of GM Canada. This will support GM's plans to build 1m electric vehicles a year in North America by 2025."
The latest announcement follows previous GM Canada investments including a $20.8 m Renewable Energy Cogeneration project at the St Catharine's site aimed at lowering greenhouse gas emissions and reducing future energy costs.
"The cogeneration programme is expected to reduce net greenhouse gas emissions by approximately 70% while protecting the engine and transmission plant from rising electricity and carbon costs," said GM in a statement.
Last year, GM also signed a deal with Posco Chemical to work with the governments of Canada and Quebec on a facility in Bécancour, Quebec, estimated at $400m for the production cathode active material (CAM) for GM's Ultium batteries.