Evelyn Chiang's first taste of logistics was when she was 13, virtually penniless, and supporting her family. Today she is the vice president of supply chain and IT at EV-maker Tesla Motors.
Evelyn Chiang describes her career path as "an odd and different journey to logistics and supply chain". She is not exaggerating.
She had her first taste of logistics 30 years ago at a farmers' market on Granville Island, near downtown Vancouver, Canada. A 13-year-old Taiwanese immigrant, she had just left school to support her family after her father fled the country to avoid fraud charges. She rented a table at the market for $10 a day, selling produce.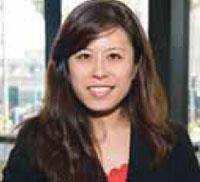 Amid the bustle of the market stalls, she watched the flow of goods from the bottom view of a supply chain, where she soon saw beyond the pennythin margins of selling fruit. During her first month, she learned the links in the chain, the world of local and industrial farmers, wholesalers and their customers. She noted too the market's overwrought logistics: her fellow tradesmen arrived at 5:00am shuttling in deliveries for display before the market opened at 8:00am. Although they came separately, most carried produce from the same wholesalers. They lingered long after the market closed to cart it all away again.
Sensing an opportunity, Chiang offered to set up the stands of her fellow traders for a fee. And for a higher price, she would pick up their produce. Her mother had a van and her 11-yearold sister could pitch in at the stands.
The services proved so popular that soon Chiang was the market's unofficial freight forwarder before she was old enough to work an hourly job legally. She was buying enough volume from wholesalers to have negotiating power, getting better prices for the market sellers, while keeping a share herself.
She noted too that most of the traders bought from the same farms, lining up their stalls with similar products to wilt indistinguishably side by side. For a premium, she advised her counterparts to diversify, before coming upon a big idea for herself.
With her mother's credentials, she obtained an import license to set up a business as an Asian fruit wholesaler. Back then fruits such as kiwi, Asian pears or dragon fruits were rare and exotic in North America. She researched the logistics of shipping the fruit, and took her idea to Safeway, one of the larger supermarket chains in Canada. Despite her limited education or experience, the company took a meeting to hear her pitch.
"I think it was because I was so little. It was like when young girls ring your doorbell selling Girl Scout cookies, and you just give them a chance."
But Safeway bought more than a few cookies. Following market research and an in-store demo, it signed a volume contract with Chiang. She could then delegate her operations: she put her mother on the market stand, negotiated with shipping brokers and hired logistics staff to do consolidation and distribution. Soon she returned to school, managing the business through the night, which was possible since most of her suppliers were in Asia.
Within two and half years, the company would have an annual turnover of $50m. When it was she actually slept remains unclear.
Home alone, a world apart
Had the market been a teenager's Saturday job, perhaps Chiang would not have approached it with such entrepreneurial zeal. That, at least, is how she tends to look at things today; she sees many of her previous disadvantages, particularly in childhood, as opportunities.
That includes Asian cultural practices that might be shocking to western sensibilities. Her father, who inherited a pharmaceutical manufacturer in Taiwan, lacked a first-born son to take over the business. Giving any of it to his daughters would have been unthinkable; thus, seeing the girls' limited options, he and his wife sent them to Canada. Chiang was eight years old, her two sisters ten and six.
Beneath the radar of social services, school officials and the community, the girls lived alone, financially supported by their parents, but managing the apartment, meals and school themselves. It's an image that recalls vapid Hollywood comedies or Dickensian poverty. But for the Chiang girls it was neither. "We were good kids," she says. "We went to school and looked after each other. We even looked for deals when we went food shopping."
The parents eventually came to Canada four years later in a move meant to be temporary. Her father struggled to find his footing. He spoke little English and had no higher education or trade skills. His chauffeur driven life in Taiwan was reduced to working in a fast-food restaurant. Chiang's mother had only graduated high school and spoke no English.
Her father eventually found a job at a lumberyard, but continued to struggle culturally. He was even beaten up. His pride deeply wounded, he decided to invest his money in stock trading.
With success finally beckoning, Chiang woke up one morning to the police ringing her doorbell, asking for her father. When the family looked for him, they found only a note. "I'm sorry," it read.
He faced charges of fraud and embezzlement, after falling unwittingly into a pyramid-style trading scheme. "Basically, 'Bernie Madoff ' happened to my family 30 years ago," she says.
The family was left crippled as the bank froze its assets. Chiang's eldest sister was about to go away to university, and so it was decided she should go and work her way through school. Responsibility for the rest of the family would fall to Evelyn, and she would not disappoint.
"Throughout my career, including now with Tesla, I don't think of things in terms of what is shocking or unheard of. I just try to get things done in the best way possible."
-Evelyn Chiang, Tesla
The expected thing to do
But just as the cultural imperatives of Chiang's family led her to become a teenage CEO, so too would they strip her of that title. Near her 16th birthday, Chiang's father returned following secret contact with her mother. He asked for a full account of the business; Chiang accepted what had to happen. "It was expected in Asian culture that I would just hand it over to him and I would work for him," she says.
So she did. The family hired lawyers, filed for bankruptcy and came to agreements on her father's debt–most of the revenue from the business went to paying it off. "I went to MIT and put myself through school, without taking one penny from the business," she says.
Remarkably, Chiang offers no hint of resentment over her father's decisions, or the cultural constraints that led to them. Living alone taught the girls "survival skills," she says. As for her gender, she sees it as her first real opportunity.
"If I were born a boy, I would have potentially inherited the pharmaceutical business, or at least worked in it, and then would have never had the opportunities I found here," she says. Chiang's father, as it happened, had quit medical school–his real passion–to run the pharmaceutical business when his father died.
As for relinquishing her own company to pay for his mistakes, Chiang is unemotional; nothing in business shocks her. "Throughout my career, including now with Tesla, I don't think of things in terms of what is shocking or unheard of. I just try to get things done in the best way possible."
This time with feeling
Chiang would find success first in a management consultancy and later at SAP. But her career always came with a compromise, whether supporting her family, acquiescing to her father, working her way through university or falling into jobs to pay off student debt.
But she saw her career differently after working for Shai Agassi, then president of SAP's Products and Technology group, who would go on to found Better Place, which provides infrastructure services to countries developing electric vehicle networks. Chiang admits that she wanted to join Agassi at Better Place, but he felt she should go her own way. Nevertheless he inspired her to combine a gift for productivity with something she felt strongly about. She approached Tesla.
"I don't believe that it should be either profit or non-profit, that you have to live poor because you are doing charity, or the opposite. I stumbled into the software industry and it was time to do something that combined those interests with social responsibility."
Logic is at the heart of logistics. The ability to efficiently connect the dots and step back to see the larger picture."
Today, Chiang oversees Tesla's supply chain as it grows inward and outward, including building up a team with "far more experience in logistics than me", developing the local supplier base and inbound flows for when Tesla starts production of its Model S in Fremont, California, at the former NUMMI plant. She is also developing distribution networks in markets across the world. In each case, from controlling its own sales network, to identifying how best to move battery components, Tesla is forging its own path.
Like the young carmaker, Chiang wants no history to burden her view of automotive logistics, whether specific commitments to outsourcing or following the perceived "best in class" examples. Too often, she believes, such examples are drawn from intelligent management consultants without "operational smarts". (She would know about them; she used to be one.)
Rather, she believes logic to be at the heart of logistics. "The ability to efficiently connect the dots and step back to see the larger picture," she says. But perhaps there must be a special drive too, especially for a young company like Tesla, to bring real change. Compared to a 13-year old girl trying to turn a pear into a meal for her family, it almost sounds easy.