Mercedes-Benz and Stellantis have signed investment agreements with US battery start-up, Factorial Energy, for the development and supply high-voltage traction solid-state battery technology.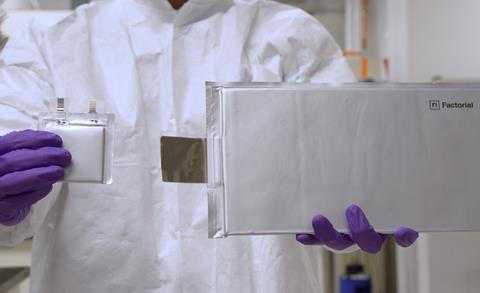 The regulatory-driven switch to electric vehicle (EV) production is well underway but there remain concerns overshadowing wide-scale consumer adoption of EVs, such as range anxiety and safety. Factorial's developments in solid-state technology are an attempt to address these problems, according to the companies.
"Our investment in Factorial, and other highly recognised battery partners, boosts the speed and agility needed to provide cutting-edge technology for our EV portfolio," said Stellantis CEO Carlos Tavares. "Initiatives like these will yield a faster time-to-market and a more cost-effective transition to solid-state technology."
At its EV Day in July this year Stellantis announced that it aims to have the first competitive solid-state battery technology introduced by 2026.
Meanwhile, Markus Schäfer, COO at Mercedes-Benz Cars and head of group research at Daimler, said the company was investing a high double-digit, million-dollar amount in Factorial Energy. "With Factorial as our new partner, we are taking research and development in the field of promising solid-state batteries to the next level," he said.
Mercedes-Benz said it aims to use the technology in a limited number of vehicles as part of a small series rollout within the next five years.
Fest range
Factorial's developments are based on Factorial Electrolyte System Technology (Fest), which leverages a proprietary solid electrolyte material allowing for safe and reliable cell performance with high-voltage and high-capacity electrodes. It has been scaled in 40Ah cells that perform at room temperature and Factorial says that the technology increases vehicle range per charge by between 20% to 50%, compared to lithium-ion batteries. That is in part because they use different anodes, such as lithium-metal anodes, which offer to almost double the energy density compared to today's lithium battery cells, according to Mercedes-Benz.
The supplier maintains that Fest is safer than conventional lithium-ion technology and can be easily installed into existing lithium-ion battery manufacturing infrastructure.
Solid-state batteries are widely expected to transform the EV supply chain. The liquid electrolyte solutions in EV batteries today are generally flammable, so solid-state batteries are hoped to reduce the risk of thermal runaway and fire.
Mercedes-Benz recently took a 33% stake in battery cell manufacturer Automotive Cells Company (ACC), joining Stellantis and energy provider TotalEnergies, which each have an equal third in the company.
Stellantis has also recently signed an agreement to source battery grade lithium hydroxide in Europe from Vulcan Energy Resources, with shipments set to begin in 2026.
The five-year Vulcan supply agreement is part of Stellantis' electrification strategy to secure sufficient access to critical raw materials to construct the battery pack.
Stellantis has announced a €30 billion ($34 billion) investment in electrification and software development through 2025.