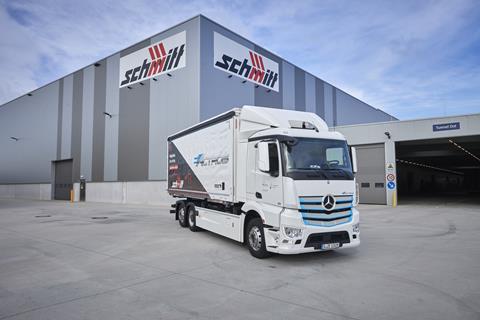 A battery electric Mercedes-Benz eActros run by logistics provider Logistik Schmitt has become an established part of the German truck manufacturer's supply chain.
"Even fully-loaded and regardless of hot or cold temperatures, it successfully completes its daily duties," said Stefan Buchner, head of Mercedes-Benz Trucks.
Logistik Schmitt is using the eActros, instead of a conventional diesel truck, to transport transmission housings between its warehouse in Ötigheim and Mercedes-Benz's Gaggenau at Rastatt, southern Germany. The operation is part of initial trials to test viability of a 25-tonne, electric-powered lorry in the rigours of routine work.
Though the two locations are only 7km apart, the truck is covering a daily distance of around 168km with loads of up to 12 tonnes in what Mercedes-Benz says is a demanding three-shift operation. The model has a range of up to 200km.
Buchner added: "The Mercedes-Benz eActros is now integrated into daily operations by our test customers in Germany and Switzerland. Here, the eActros has already covered tens of thousands of kilometres."
Rainer Schmitt, executive partner of Logistik Schmitt, said the truck is powered using a mobile charging station at the company's premises in between tours while unloading and loading takes place.
Test results so far and positive feedback from Logistik Schmitt are spurring Mercedes-Benz on to its main aim to enable locally emission-free distribution with heavy-duty, series-produced trucks from 2021 onwards, he said.
The truck maker will expand eActros testing and apply the findings to comparative drives planned for the eWayBW overhead power line project where goods are transported on a partially electrified road near Rastatt to try out diesel-hybrid catenary trucks.
For these tests, a further-developed version of the eActros with higher payload capacity and greater range will be used. Logistik Schmitt will deliver axle components along the 14km route from the Ötigheim warehouse to Gaggenau for this stage of testing.
"The specifications of the eActros will be comparable with those of the catenary truck," said Mercedes-Benz. "This parallel testing of the eActros and the catenary trucks will take place for around one year and will deliver the most important data and findings necessary for comparing both concepts."
The company also points out that a conventional diesel Actros equipped to Euro VI emission standards and fitted with measuring equipment will serve as a neutral starting point for the comparison and drive along the overhead-line route. It will then be possible to compare the energy consumption of the electric trucks, both battery-electric and catenary, with that of the diesel truck, Mercedes-Benz said.
The eActros run by Logistik Schmitt in the Rastatt area is one of ten in the model's Innovation Fleet. Among them is a truck supplied to German logistics service provider Pfenning Logistics, which is using an eActros to supply Mercedes-Benz's Mannheim plant with parts.