Jaguar Land Rover (JLR) has been forced to halt production of the I-Pace electric SUV because of "supplier scheduling issues", thought to be related to battery supply. The I-Pace, which was JLR's first electric vehicle (EV), is built under contract with Magna Steyr at its plant in Graz, Austria. Production started in March 2018 and last year JLR sold around 15,500 units of the model.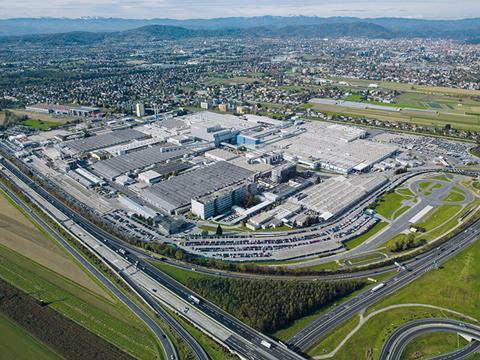 Magna Steyr refused to comment on the issue but JLR said that it had adjusted production schedules for this week and was working with the supplier to resolve the issue. LG Chem makes lithium-ion batteries for the I-Pace at its plant in Poland.
This is not the first battery supply problem to hit European carmakers this year. Audi was reported to have temporarily stopped production of its e-tron and e-tron Sportback models at its Belgian plant near Brussels last month. Mercedes-Benz was also reported to be halving production of its EQC electric car this year because of a shortage of batteries. Audi and Mercedes-Benz also source their batteries from LG Chem.
LG Chem has so far not provided feedback on the situation but the increasing demand for batteries as electric vehicle production ramps up is putting a strain on suppliers to make enough and to source the raw materials used in their manufacture. The automotive industry is just one contending for materials, such as lithium, cobalt and copper, with sectors such as high-tech.
This year global sales of pure EVs is expected to hit 2.7m but it will double to 7.3m units by 2025, in part driven by government regulation on cleaner vehicle technology.
Battery costs
Cost is also an issue for manufacturers buying lithium-ion batteries. The increase in production brought prices for lithium-ion batteries down in 2019 and there are forecasts that prices for them could be halved by 2030. However, the current shortfall could lead to a short-term increase in pricing.
"Although battery prices are generally on a downward trajectory, until supply chain issues are dealt with and capacity is ramped up to meet demand, there is some evidence that battery suppliers can sell to the highest bidder, so we could see a temporary spike in prices," said Daniel Harrison, automotive analyst for Ultima Media's business intelligence unit – Automotive.
Added to this is the cost of storing and moving the batteries. Logistics providers have to deal with complex rules and regulations, and implement sophisticated strategies to manage the supply of batteries across international borders from the main centres of production. They also need to meet the just-in-time (JIT) delivery standards at assembly plants such as Graz.
Jaguar is due to start making an electric version of the XJ at its Castle Bromwich plant this year following a £1 billion ($1.25 billion) retooling of the plant. To secure battery supply the company is establishing a 150,000-unit battery assembly centre at nearby Hams Hall which will become operational this year, as well as setting up electric drive unit assembly at the Wolverhampton engine manufacturing centre.
The carmaker is also urging government and industry to work together to bring gigascale battery production to the country. Domestic output would avoid the cost and safety risk of importing from abroad, argued CEO Ralf Speth, when the announcement was made last year.
The carmaker said its call for action builds on the UK Battery Industrialisation Centre (UKBIC) in Coventry and the government's 'Faraday Challenge', which has the goal of ensuring the UK leads the world in, and reaps the economic benefits from, the global transition to a low-carbon economy.
Read more about production at Magna Steyr's Graz plant and our UK conference report, which details the latest development at JLR's Castle Bromwich plant. For further coverage of the EV market and the battery supply chain see our digital Automotive Logistics EV supplement.