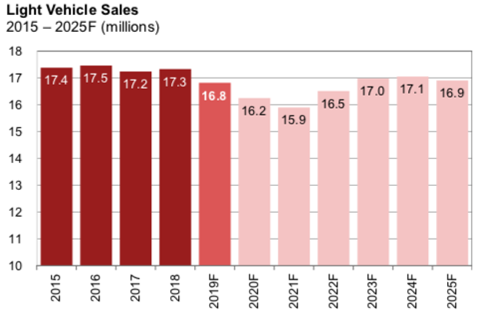 Vehicle sales in the US are predicted to slow down from next year, and with a possible recession on the way carmakers and their suppliers could face a difficult few years, delegates heard at last week's 20th Automotive Logistics Global Detroit conference.

On top of that the push towards electric vehicles (EVs), in a regulatory climate aimed at reducing emissions, could lead some manufacturers to overreach themselves, according to Brandon Mason, automotive director and mobility leader at PWC.
While the US market is currently at a peak, with sales expected to reach 16.9m units this year, Mason explained that carmakers are operating at high single-digit margins in terms of profit, which could be precarious if current expenditure on new vehicle technology continues. That is because sales are expected to retract over the next three to four years, down to $15.9m in 2021, and will not top out again until 2025.
He pointed out that automotive manufacturers have placed a strong emphasis on new-generation technologies, but that existing business has in fact merited more attention. While electric and hybrid vehicle sales remain stagnant in the US, at 1.5% of market share, petrol-fuelled pickup trucks and SUVs make up the majority of sales (though regulations on the horizon could start to change this).
"I think industry consolidation is inevitable. Five or ten years from now, the landscape is going to look significantly different than it does today" – Brandon Mason, PWC
Mason said that companies which have invested heavily in vehicle technology would need to bridge the gap of lower profitability before the market returns and the price of EVs begins to reach a parity with combustion engine cars.

"I would argue that many of the companies do not have that runway, over five to ten years, to continually spend that money before they start to see returns," said Mason.
As a result, Mason predicted that there would be more alliances, mergers and acquisitions up to 2025, plus an increase in restructuring and more aggressive cost reduction programmes.
"I think industry consolidation is inevitable," he said. "Five or ten years from now, the landscape is going to look significantly different than it does today. The companies that are making big bets and don't have the runway will go bankrupt or get bought up by other companies."
Weakening macroeconomics
This forecast of falling sales and structural change was set in a global context by Daniel Harrison, automotive analyst at Ultima Media and author of a new report released by the company's automotive business intelligence unit, 'Automotive headwinds align into a perfect storm'. The report shows that there have been significant declines in various regions of the world since 2017 and foresees significant difficulties for the industry.
Harrison told delegates that the weakening macroeconomic climate has been exposing OEMs to considerable risk, at a time when they have been coming under intense pressure to invest in EVs.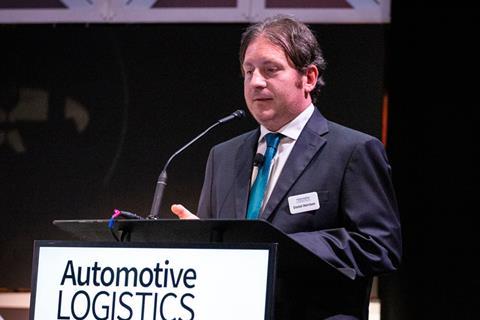 He said that factors including expensive investments in powertrain and digital technologies, tightening regulatory requirements for emissions, pressure from trade wars and slowing economic growth, were combining to challenge the established business and operating models of most carmakers.
Two recent examples of regulatory changes are the EU's Regulation (EU) 2019/631, which was signed in April and will force carmakers to reduce fleet average CO2 emissions to the overall EU target of 95g CO2/km by 2021; and, in China, the Corporate Average Fuel Consumption (CAFC) limit for passenger cars, which will be 116g CO2/km in 2020 and 93g CO2/km by 2025.
Moreover, the global economic climate is currently being affected by slowing growth in major markets such as China and India, plus trade wars that are hitting a number of markets, including China, Russia and Iran. Brexit uncertainty is paralysing the UK and causing concerns in Europe.
"Global sales are going to fall in 2019 from 95m units in 2018 to 92.5m in 2019, a significant drop, and from 2020 to 2025, the CAGR [compound annual growth rate] will only be 1.2%, so very anaemic growth rates," commented Harrison.
For the full report from the AL Global Detroit conference, click here.
To gain unlimited access to the exclusive content and features of Automotive Logistics please SIGN-IN or REGISTER FREE today.