Volvo Cars launched its fully electric EX90 SUV last week. The seven-seater vehicle will be mass produced at the Swedish carmaker's US plant in Ridgeville, South Carolina for domestic and export markets from 2024. Volvo said it also has plans to produce the vehicle in China.
The EX90 is the first pure battery electric model in a range forthcoming over the next decade. Volvo plans to produce a new battery vehicle each year to 2030 by which time it aims to only sell EVs. By mid-decade the carmaker aims to sell 1.2m cars annually with half of those fully electric cars. It also aims to sell half of all cars via online channels.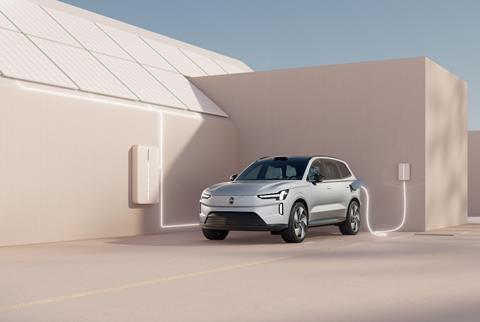 "The Volvo EX90 is not only our first-born electric SUV, it also marks the start of an intense renewal period during which we will launch one new fully electric car annually in coming years, powered by advanced technology and enhanced connectivity," said Jim Rowan, chief executive, Volvo Cars.
The lithium-ion battery for the EX90 will be made by CATL, though the battery maker recently postponed plans to build a US plant. While not confirmed, it is likely that new US legislation on battery sourcing, outlined in the Inflation Reduction Act, will affect the cost of materials for the world's largest battery maker.
The IRA promotes local production of both zero-emission vehicles and lithium batteries, and includes the domestic supply of battery materials, offering lots of provisions to source domestic materials and localise battery production from start to finish in the US.
Logistics advantages
Volvo would not confirm any vehicle distribution plans at this stage but it is likely that for short and deep-sea exports the carmaker will use the port of Charleston, as it does for the S60, which is also made at the South Carolina plant. Production of the S60 began in 2018 and Volvo started exports to Europe through Charleston in 2019. More than half of the vehicles produced at the US plant are exported. The EX90s made in South Carolina will be delivered to markets in North and South America, and to Europe.
Logistics considerations, including international port access, were a factor in Volvo's original choice of South Carolina to build its plant. The carmaker also pointed to the area's well-trained workforce, good investment environment and experience in the hi-tech manufacturing sector.
South Carolina Ports announced last month that it was developing a rail link and intermodal yard to serve the Charleston port. Palmetto Railways will support Class I railroads CSX and Norfolk Southern in using the rail yard to move goods to and from the port. The port authority said around 24,000 metres of rail track will create a capacity of 1m rail lifts in Phase 1.