In its performance update for the first nine months of 2023 Volkswagen Group said the automotive industry is "currently experiencing a general reluctance [by customers] to buy battery-powered models" and that "the overall market trend… fell short of expectations".
The company actually increased global deliveries of EVs by 45% to 531,500 in the first nine months of 2023, with the battery EV (BEV) share of total vehicle deliveries increasing to 7.9%. Europe remained the key driver of VW Group's electrification strategy with an increase of 61% to 341,100 BEVs delivered.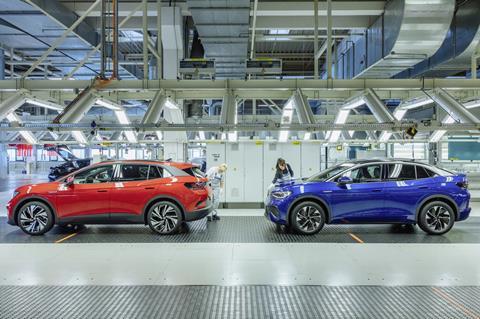 However, VW Group said orders for EVs were down and it was adapting production to demand.
"We showed a good overall performance in our all-electric deliveries with a global increase of 45% in the first nine months," said Hildegard Wortmann, member of the VW Group's Extended Executive Committee for Sales." Despite the current general reluctance in the European market to buy battery-powered vehicles, we gained market share and remained market leader in this segment.
However, order intake going forward is below the carmaker's expectations because of lower-than-expected demand.
"At the end of September, the Volkswagen Group's order bank for BEVs amounted to around 150,000 vehicles in western Europe alone," a spokesperson for VW Group told Automotive Logistics. "Following our guiding principle 'value over volume', we will continue to steer our production in line with demand."
Battery plant on hold
That includes plans for battery production in Europe, where VW Group and its PowerCo division have been looking at options for a third gigafactory. VW Group CEO Oliver Blume was in the Czech Republic last week, a potential location for the third European battery facility (and fourth globally), but the company said that "based on current market conditions there is, for the time being, no business rationale for deciding on further sites".
Overall, the group increased all vehicle sales (+21%) to a cumulative figure of 3.57m up to the end of September and deliveries rose to 4.82m units in the first three quarters, an increase of 9.4% compared to the same period in 2022.
However, the company said that interruptions in production because of reduced component availability and significantly higher product costs had a noticeable negative impact on the Volkswagen brand's Q3 operating profit of €2.13 billion ($2.3 billion), down from €2.46 billion on the same quarter last year.
In response, Thomas Schäfer, VW Group's head of the brand group core – Volkswagen, Škoda, Seat/Cupra and Volkswagen Commercial – said: "The only real response to the difficult environment and the fundamental technological transformation is even closer cooperation between our brands. We are creating the space required for the necessary investments in the future through synergies, by bundling competences and with our efficiency programmes. The goals, priorities and responsibilities within the Brand Group are in place, now we are shifting up another gear in the joint implementation."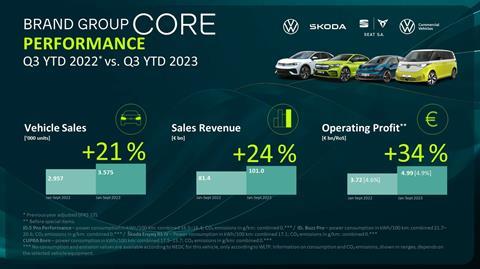 Rival deliveries
Rival carmakers have also seen growth in EV deliveries in 2023. BMW Group's BEV sales in Q3 increased by nearly 80% year-over-year to more than 93,900. This accounted for 15% of the total volume compared to 8.9% a year ago. Over the nine-month period, the percentage of BEVs climbed to 13.4%.
At the same time Volvo sold almost 139,000 units of the Recharge EV between January and October, an increase of 45%, with the fully electric version accounting for 59,775 (+123%) and the plug-in hybrid version accounting for just more than 79,200 (+15%).
Meanwhile, Mercedes-Benz Passenger Car sold 289,900 EVs between Q1 and Q3 this year, up more than 30%, with pure BEV sales up more than 82% equal to almost 174,500.
According to figures from the European Automobile Manufacturers' Association
(Acea), in September 2023, EU battery-electric car registrations increased by 14.3%, reaching 127,149 units, or 14.8% of the market. Germany, the largest market, declined by a significant 28.6%, which it said may be linked to a reduction in incentives for private buyers from September.
This was the third time this year that battery-electric cars surpassed diesel, making them the third-most-popular choice for new car buyers. Hybrid-electric cars retained their position as the second most-preferred option, accounting for a 27.3% of the market.