Buy a new BMW, and it's no surprise to find it stuffed with hi-tech telematics. Real-time traffic information, GPS navigation, automatic speed limit display, rear vision display, parking assistance, smartphone integration, intelligent diagnostics and status display – all of these and more are fast becoming part of the modern driving experience.
As automotive logistics insiders know all too well, the contrast between the hi-tech environment inside the vehicle and the more low-tech world outside it is stark. And as vehicles move through the post-assembly, finished vehicle supply chain towards the end customer, paper-based processes and batch-mode systems still abound. The barcode – invented in 1952 – is still the industry's lingua franca, with the use of RFID lagging far behind.
So would it be possible to use the modern vehicle's hi-tech onboard telematics systems to achieve something better? After all, many of today's vehicles know exactly where they are and what condition they are in, and have onboard communication capabilities that would allow them to provide that information to third parties in near-real time.
There are obvious operational advantages. As Wolfgang Göbel, president of the Association of European Vehicle Logistics (ECG) and board member and chief sales officer at logistics service provider Mosolf, points out, using onboard telematics to communicate a vehicle's location and status ticks a lot of boxes. Real-time location information, for instance, could transform how the finished vehicle logistics industry carries out scheduling. And status information can provide timely warnings in the case of such things as windows left open in transit, flat batteries, or deflating tyres.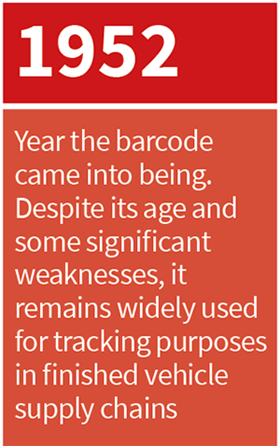 "There's a huge potential gain in efficiency," he notes. "As an industry, we can be faster at what we do, more efficient at what we do, and achieve higher levels of quality: if a vehicle has a quality issue, such as a deflated tyre or open window, that information is known immediately, rather than at the next physical inspection of the vehicle. Everybody sees these benefits, which is why there's so much effort being put into trying to achieve them."
Little surprise, then, that automotive manufacturers are well advanced in their work on the concept. Ford, Volkswagen, the Renault-Nissan-Mitsubishi Alliance, Fiat Chrysler – these and more are actively working towards just this. And at high-end marques Jaguar Land Rover and BMW, leveraging onboard telematics in this way is more than an aspiration: it's happening.
BMW's onboard telematics capability, for instance, moved into an operational mode in March 2018. Internally badged as the 'Connected Distribution' initiative – a nod towards the company's 'Connected Drive' consumer branding for its telematics technology – BMW's work in the area began as recently as 2015, explains project leader Juliane Gottmann.
"We were looking for a way to react more quickly to vehicle movements, and to be able to know with more accuracy exactly where a vehicle is. Plus, when a customer asks 'Where is my car and when do I get it?', we wanted to be able to get answers more quickly and more reliably. Barcode technology is slow: we are reliant on third parties to carry out the scanning and report the data – which can take minutes but can also take days. It takes time to unload an entire ship, for instance. So there's a disconnect between where we think a vehicle should be, and where the systems tell us the vehicle is."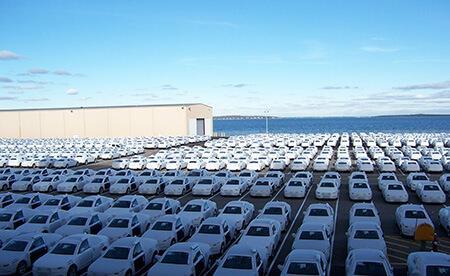 The use of onboard telematics to transmit back to the automotive manufacturer highly granular information about a vehicle's location also serves the purpose of making available a wealth of data on its progress through the finished vehicle supply chain as a whole.
BMW, for instance, has enabled its vehicles to send data 'packages', containing current GPS position, VIN number and status information like current mileage and window status, on every engine shutdown between the end of the assembly line and arrival at the dealership (in a so-called 'order to delivery last state call'). This can provide real-time transparency into logistics process deviations, as well as individual vehicle progress.
As Gottmann stresses, though, this aspect of the company's investment in onboard telematics-enabled vehicle tracking is still a work in progress. While there is undoubtedly an acknowledged big data aspect to BMW's Connected Distribution initiative, it is not yet fully-developed.
"Right now, we can see where the vehicles are. In the future, we will measure and monitor entire flows of vehicles, not just individual cars. We'll be able to see trends and make predictions, optimise flows and reduce lead times. It's about looking at dwell times and combining GPS-sourced data with other vehicle-specific data."
Track and react
And it is here, says Hartmut Haubrich, director of vehicle information systems at German logistics software provider Inform, that the real benefits of location data sourced from onboard telematics lie.
"'Track-and-trace' is very nice, but it's looking at the past," he argues. "Instead, what manufacturers really want to be able to do is 'track and react' – in other words, compare where a vehicle is with where it should be at that point in time, and at a very granular level: knowing where a vehicle is, not just in terms of a GPS location expressed in latitude and longitude, or a latitude and longitude crudely translated into a port or city, but instead expressed intelligently in terms of individual zones within car plants, ports, or compounds. They want to be able to say things such as 'this vehicle is at the Ford Köln plant's truck loading zone', or 'this vehicle is at the Zeebrugge ICO Terminal', and know that they are either where they should be at that point in time or be able to raise the alert for corrective action."
Making use of what's there
It's not absolutely clear to everyone yet how onboard telematics might work in a finished vehicle logistics context, what its advantages are over RFID and barcodes, how the costs compare and how practical the technology really is. There are also still questions about how well it might work in a multi-marque context, what additional information it can provide and how manufacturers and logistics providers plan to analyse that information.
How well these issues are clarified will effectively determine just how far the use of onboard telematics goes within finished vehicle supply chains. And that's not unreasonable, given that to some extent, the industry has seen this movie before. Compared with barcode technology – especially damage-prone paper-based barcodes – RFID offers significant advantages, for instance. Yet RFID technology has struggled for traction. Could the same turn out to be true for onboard telematics?
What is perhaps different about the idea of using onboard telematics for logistics purposes is that it seeks to leverage technologies that are already – or soon will be – in new cars: GPS capability is already widespread, sensors and onboard diagnostics are becoming more prevalent, Bluetooth and mobile phone integration are commonplace. In simple terms, all the required bits of hardware are already present in the vehicle and integrated with each other, which means the additional investment is largely in writing software to temporarily re-purpose the hardware while vehicles are in the supply chain.
eCalling for moreThe European Union's eCall initiative – which mandates new cars being equipped with an automated system to summon help in the case of a vehicle collision – can only help ensure that all vehicles feature the necessary hardware. This will expand the rollout of onboard telematics across all vehicle ranges, driving down hardware acquisition costs and offering the prospect of a single onboard telematics-based solution for all new vehicles sold in regions where eCall (and similar) capabilities are required.
"It's about re-using the eCall telematics that are already in place on the vehicle," says BMW's Julianne Gottmann. "The telematics are already present, so we didn't need to invent something new or add cost to it. More than that, it costs money to apply barcodes and, in particular, money to remove them. There's also a cost to reading them, which is a manually-intensive task, and there are infrastructure savings from moving away from barcodes. Also, barcode technology can be error-prone, with missed or misread scans. The level of errors might not be high, but they still introduce an unwelcome element of deviation. So the appeal of telematics was obvious."
Hervé Moulin, project leader for telematics in finished vehicle logistics across the Renault-Nissan-Mitsubishi Alliance, says the use of onboard telematics also offers a number of advantages over other methods of tracking.
"Contrary to barcodes, with telematics you don't have to go to a vehicle to read a label at close range in order to enter the vehicle in your system. When a vehicle is unloaded in your compound, you know it immediately and can plan for the next step, as well as identify which vehicles have not been processed yet by your staff. Telematics is automatic and – almost – real-time, while barcode technology only goes as fast as the staff who scan the labels," he says.
"And in contrast to RFID, telematics works everywhere there is connectivity and GPS positioning, almost like a smartphone, without extra equipment," adds Moulin. "This is particularly attractive in the dealer network, and at any location where there is no compound management system. What's more, RFID requires heavy investment for each site where it is implemented, plus the ongoing maintenance of the RFID reading equipment and the associated tags. And while RFID readings are only picked up when a vehicle crosses into or out of a specific zone, telematics provides positioning information everywhere in the zone."
Moreover, points out Moulin, barcodes and RFID technology essentially carry only static information, encoded at a point in time – a VIN number, say. In contrast, not only does the use of onboard telematics provide a direct connection to the condition of the vehicle, via the vehicle's intelligent diagnostics and status sub-systems, but there are almost no constraints on making that information available within the finished vehicle supply chain. Barcodes and RFID tags not only do not 'know' this information, they are constrained in their ability to encode it.
Telematics challenges
There are, however, some challenges to using telematics, from a finished vehicle logistics point of view.
One is that onboard telematics might not be capable of providing a complete solution throughout the entire supply chain – for example, in the close confines of vehicle compounds and rail yards. This is because while a vehicle equipped with onboard telematics can transmit its location, it is limited to GPS accuracy levels, says Paul Nurse, chief executive of ProAct International, a provider of specialist finished vehicle TMS, yard management and supply chain visibility solutions.
"The goal has to be to be able to stand in front of a group of vehicles and know exactly which is the one you're looking for, in order to move or process it," he says. "At a compound gate, or in a parking zone, it's important to be able to answer the 'who are you?' question. And with today's technology, that can't yet be done. The missing piece of the jigsaw, still, is the link between the vehicle's location and being able to tell which exact vehicle is the one in front of you. Onboard telematics is a solution, but it's not the solution to everyone's needs."
A further problem is the difficulty of receiving signals from some locations, for example, from vehicles inside ships. As Inform's Haubrich points out, this means that at occasional points in the supply chain, automotive manufacturers may have to make assumptions about what a vehicle's 'presence' in a particular location actually means.
"It's widely known that Jaguar Land Rover has agreed with the ports it uses that, if a vehicle has passed a certain point in that port, it can be regarded as loaded onto a ship and awaiting departure. Likewise, the arrival of that ship at its destination port then serves as a trigger to indicate that all the VINs due to disembark at the port have actually arrived at the port and are awaiting unloading."
BMW's Gottmann concurs, stressing that GPS-based telematics-derived data is regarded within its organisation as an additional, rather than a sole, source of data on vehicle location.
"If we can't get data from a GPS reading, then we switch to the data coming to us from the service providers, who will tell us, for instance, that the ship has left the port. At that point, we know we'll see the vehicle again when the ship arrives at the [next] port. We try to use the best data, rather than trying to adhere to a single source," he says.
Sharing the data?
Then there is the question of to what degree information gathered by vehicle-makers will really be shared with their partners in the finished vehicle supply chain – something that certainly isn't really happening right now (see No real benefits for service providers? below).
But manufacturers are coming around to the idea. Renault-Nissan-Mitsubishi is open to data sharing, says telematics project leader Moulin, pointing out that the Alliance is leading an initiative to develop common connectivity audits for vehicle logistics sites.
"The objective is for logistics service providers to need only one audit to comply with the needs of all the automotive manufacturers who join the initiative," he explains.
"Any action plan afterwards will ensure conformity with all these manufacturers' requirements, and should simplify and accelerate general implementation of the technology. Any automotive manufacturer or logistics service provider is welcome to join in, and some have already expressed their willingness to do so."
Nor is this the only cooperative initiative underway. A number of manufacturers and logistics providers – among them Volkswagen, BMW, Groupe PSA, Renault-Nissan-Mitsubishi, ICO Terminals, Koopman Group, Mosolf and UECC – are cooperating in a working group organised by the ECG, Germany's VDA, and standards organisation Odette. Good progress is being made, and a number of logistics processes have been identified in which a standard form of messaging could help, avoiding non-standard messages specific to particular manufacturers, says Rob Exell, business services manager for Odette, who facilitates the group's work.
In North America, meanwhile, an AIAG-facilitated group of automotive manufacturers is working on similar lines, says Fiat Chrysler Automobile's head of logistics for North America, Marc Brazeau.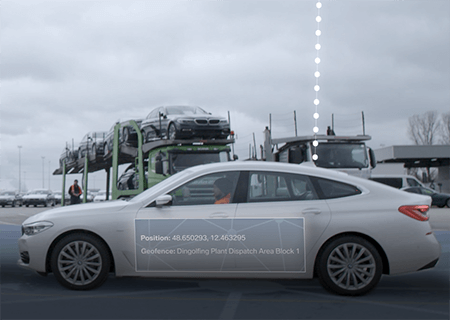 Nissan is among the OEMs cooperating in a working group looking at possible standards within logistics processes
"We don't want to have standards that are tainted by commercial interests or self-interest," he says. "We want standards that any service provider can use to communicate with us and our vehicles. And we also very much want to avoid reinventing the wheel, so if any applicable standards are out there already, we want to use them, rather than developing something else and adding complexity. And, fortunately, some of those standards do exist."
Moreover, he adds, the two working groups – the AIAG and ECG-VDA-Odette – are in touch with each other and collaborating, with a joint forum scheduled during January.
"Going forward, our expectation is for quarterly review meetings, so that we can maintain that cooperation and don't end up with different regional approaches to telematics and embedded connectivity. It truly is a global initiative," he comments.
No real benefits for service providers?
Enthusiasm for the use of onboard telematics in finished vehicle supply chains is not universally shared, of course.
One major European logistics service provider who prefers not to be named, for instance, dismisses the idea of any real benefits for the finished vehicle supply chain – suggesting that automotive manufacturers would only make available information that they wanted to share, and that it would be naïve of LSPs to expect access to all the location information and diagnostic data being sent to OEMs.
It does seem very likely, on the other hand, that the data automotive manufacturers derive from vehicles' onboard telematics will be used to measure and monitor their logistics service providers.
Jon Kuiper, former chief executive of terminal operator and car transporter specialist Koopman Logistics Group and now part of a joint logistics service provider initiative to develop a digital platform for finished vehicle supply chain visibility, is another sceptic.
"It is a mistake to view telematics-driven vehicle connectivity as a panacea, and there's a sense that manufacturers are jumping onto an available technology without first thinking through the problem they are trying to fix," he notes. "It doesn't tell the dealer when the vehicle is going to arrive, or what services or processes it has yet to receive, or if that vehicle can be expedited. From the point of view of the supply chain, those are the sort of things that matter, and – as far as I am aware – no-one is using onboard telematics in that way."
It's true that vehicle manufacturers appear not to be sharing their telematics-derived data with the finished vehicle supply chain at present. But that is not to say this will never happen.
Gottmann confirms that the vehicle data BMW receives at present, for example, remains within the company and that barcodes are still being applied for use in the downstream supply chain. And in this, she says, the initiative is in line with the original objectives, which were to replace BMW's own use of barcodes with telematics data and so eliminate the costs of barcode handling within BMW's logistics processes.
That said, she notes, the company has no objection in principle to sharing telematics-sourced data with the supply chain – it has simply focused first on getting the technology to work and proving the concept.
"We are working on a way of sharing the data on a restricted basis, giving logistics providers just the data that they need – but this is in the future," she says.