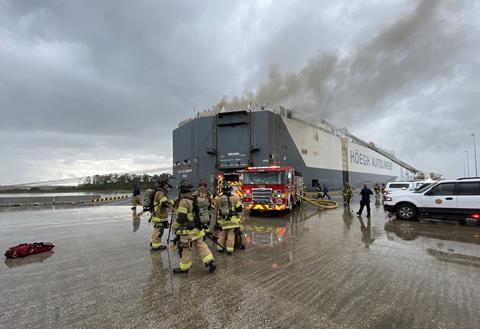 Firefighters were called to the Blount Island vehicle handling terminal at the US port of Jacksonville (Jaxport) last Thursday (June 4) when a fire broke out on the Höegh Xiamen car carrying vessel.
The fire started at around 16.00 hours on the seventh deck but quickly spread. Firefighters from Jacksonville Fire and Rescue Department joined with specialist marine firefighters from Resolve Marine Group to extinguish the blaze. The fire was brought under control over the weekend but continues to burn. Fire tugs alongside the vessel have been spraying water onto the vessel to keep it cool at a rate of 25,000 gallons per minute.
No crew members were hurt but eight firefighters sustained injuries during an explosion while they were dealing with the blaze and another was hospitalised with smoke inhalation.
"We are continually grateful for the assistance of the State of Florida, the US Coast Guard, the Port of Jacksonville and especially the firefighters whose ongoing hard work and expertise have brought the fire under control," said Höegh Autoliners CEO, Thor Jørgen Guttormsen. "Our thoughts and prayers remain with the firefighters who sustained injuries during the initial response to the fire and we wish them a speedy recovery."
Hoegh said there were no reports of any pollution and the situation was being continually monitored. Containment booms have been placed around the vessel as a precautionary measure.
The Höegh Xiamen, is owned by Höegh Autoliners and during the time of the incident was being operated via charter by Grimaldi Group. It had loaded 2,000 used cars at Jaxport and was ready for departure.
This latest incident follows a number of serious fires aboard car carrying vessels to hit the sector over the last couple of years.
The cause of the fire aboard the Höegh Xiamin is under investigation.