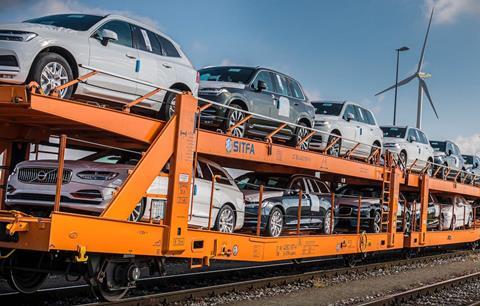 As part of its climate action plan announced in October last year, Volvo Cars is moving more finished vehicle transport to rail from truck, thereby reducing CO2 emissions from its logistics operations.
The carmaker aims to reduce its lifecycle carbon footprint by 40% per car between 2018 and 2025, which would require a 25% reduction in operational emissions, including from logistics, according to a company statement. The efforts made form part of Volvo's stated ambition of being a "climate neutral" company by 2040.
The OEM has started by cutting CO2 emissions by almost 75% on the route between its Ghent assembly plant in Belgium and a purpose-built depot in northern Italy. On a second route, from Ghent to a depot in Austria, Volvo said emissions had been cut by almost half by switching to rail. The carmaker will move around 20% or 80,000 vehicles by rail in Europe this year, both those made in Europe and those from China.
"When we said we planned to significantly reduce emissions across all our operations, we meant it," said Javier Varela, senior vice-president of manufacturing and logistics at Volvo Cars. "Our logistics network is just one piece of that puzzle, but an important one nevertheless. This is one example of our commitment to reducing our impact on the environment through meaningful, concrete steps."
Outside Europe, Volvo Cars is looking to use rail transport on a wider scale in China and the US. The carmaker has been using rail to deliver volumes of the S90 from Daqing in China to Zeebrugge in Belgium and the success of that switch has inspired the OEM to look at other services delivering cars to regional depots in China and Russia.
In the US, Volvo is moving more vehicles out of its Charleston assembly plant in South Carolina by rail to depots across North America and said that was likely to increase once the next-generation XC90 goes into production at the plant.
The use of rail to move volumes out of Charleston is part of a plan to help double sales in the country. The Charleston plant was built with a direct rail connection or inbound delivery of parts and the outbound shipment of finished vehicles. Volvo can bring in more imports thorough the port of Charleston and combine them with locally made vehicles for shipment by rail from its railyard, though at the moment it is moving around 10,000 vehicles by rail, which are made exclusively at Charleston. That figure is out of a total production of 110,000