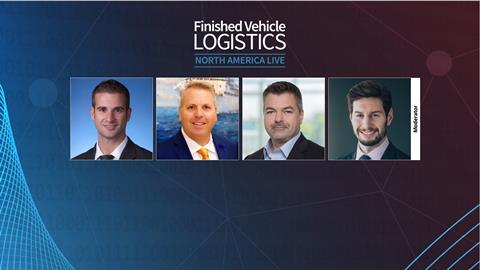 There is high demand for vehicle storage capacity and efficient throughput at North America's vehicle ports, but port processors, logistics providers and OEMs still manage many processes through manual and analogue tools. In this session, Volkswagen Group of America's Michael D'Angelo and tracking specialist Cognosos's Adrian Jennings challenge the sector to up its game, as enhancements in vehicle processes and technology have the potential to transform terminal ecosystems into connected and integrated hubs with improved capacity and reduced dwell time.
And while digitalisation opportunities could give OEMs opportunities to get more out of existing space, the network continues to evolve: Finn Roden presents details on the opening of a brand new vehicle-handling facility, the AutoMOBILE Terminal in Mobile, Alabama, which opened earlier in June.
Featuring:
Michael D'Angelo, Manager of Port Operations and Domestic Transportation at Volkswagen Group of America
Finn Roden, Chief Commercial Officer at AutoMOBILE International Terminal
Adrian Jennings, Chief Product Officer at Cognosos
Moderated by Richard Logan, Senior Content Producer, Automotive Logistics and Ultima Media
This session was held on June 23 during the Finished Vehicle Logistics North America 2021 Live virtual conference.
Watch more on-demand videos and content from the Automotive Logistics Spotlight series.