The barriers to further digitalisation in automotive logistics are "failures of the tech industry" rather than failures of the automotive sector, according to the chief product officer of intelligence firm Cognosos.
Barriers such as integration of software are "damning to the technology industry" which has not considered the complexity of the automotive supply chain, said Adrian Jennings, CPO at Cognosos.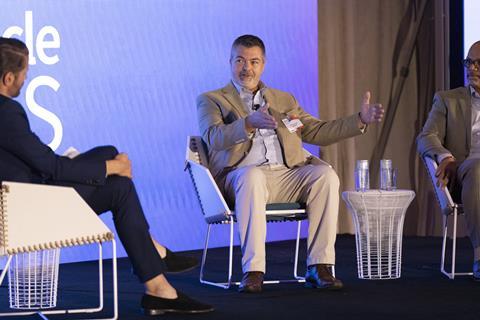 An exclusive report by Automotive Logistics, in partnership with Cognosos, found that one of the challenges that FVL providers and users face is in furthering digitalisation to improve visibility. The survey, which collected responses from 271 automotive logistics industry experts, found that integration and IT issues was the main barrier to further digitalisation, with 111 respondents (41%) ranking it as their top challenge. This was followed by lack of digitalisation cooperation (35%), ROI being hard to prove or justify (32%) and lack of budget (26%).
Speaking to Automotive Logistics on a livestream revealing the survey results, Jennings said: "Those top issues are all failures of the tech industry. They speak to technologies that just haven't delivered. Why should there be a giant IT integration issue? That is a poorly designed solution that really didn't think about how difficult it is for an OEM or 3PL to take on while they're trying to build [and move] 1,400 cars a day."
He added: "It's like trying to service a racecar while it's going around the track, that's what these technology insertions are."
Jennings acknowledged that ROI for new technologies is hard to prove, but he said "these technology solutions should always give back more than they cost". He said: "There should never be a lack of budget [for investment in digitalisation]. If you've put a dollar in and get two dollars out, then any CFO will sign off on that tomorrow. Operations will sign off on it if you can install it quickly and easily, and purchasing will sign off on it if it doesn't come with a multi-million price tag on day one. This is quite damning to the technology industry."
While the first wave of digital technologies focused on "performance at any cost", Jennings said a new wave of technologies need to understand costs that aren't just financial, such as the burden of integration and how it affects day-to-day operations. "You can strike off those top barriers as a very bad generation of technology," he said. "You can strike off 'lack of budget' as a very bad business model on the part of the technology providers."
The only time a barrier to digitalisation that is in the control of the end-users in the FVL sector is an unwillingness to change, with a quarter of respondents stating this resistance to change was a major challenge to their organisation. "That's in everybody's control," said Jennings. "I can't tell you how many times I've been in a company that has bemoaned their technology investment because they feel nothing improved. But when I ask what they did differently they say they didn't do anything differently because they thought the technology would do it for them. That's not how it works."
The FVL industry has a "healthy" attitude towards the visibility that can be achieved through technology and digitalisation, according to Jennings. The survey found that the main corporate initiatives driving investment in the area included visibility, transparency and ETA (73%) and cost reduction and efficiency (61%). Jennings said that digitalisation "should be about visibility, as this drives agility, and agility is what is needed to avoid volatility". But he said that the level of investment within the sector doesn't match the high expectation of cost reduction that can be achieved through technology.
He added: "Technology gives you visibility, visibility gives you the opportunity to find new ways of doing things, and new ways of doing things pays you back. Overall, this is a little bit of a black eye for the tech industry."
Download the full report now for exclusive insight into the forces shaping finished vehicle logistics