BLG Logistics has commissioned the building of a third multistorey car park at its inland auto terminal in Kelheim, Germany for Kia Motors Deutschland.
The €24m ($29m), seven-deck car park will provide capacity for 5,368 vehicles and will be the largest of the three multistorey car parks at the Kelheim terminal. Once complete the car park will bring total capacity at Kelheim to 32,000 vehicles, of which 13,000 spaces will be covered. That is up from the 27,000-vehicle capacity the terminal currently has.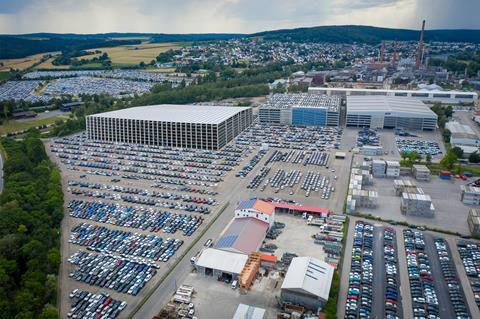 "Kelheim is an important link in our international automobile logistics network," said Andrea Eck, head of the Automobile division at BLG. "It's ideally located for consolidation of vehicles and subsequent distribution to dealers in Germany and the Benelux countries. With the construction of the new car park, we are upgrading this trimodal inland terminal."
Eck added that the facility was being to the latest construction standards (by building firm Goldbeck Group). LED lighting, charging points for electric vehicles, and a photovoltaic system on the roof were essential features, according to Eck.
Kelheim sits at the confluence of the Danube and Altmühl rivers. The auto terminal has direct rail and barge connections. Vehicles arrive in Kelheim mainly by barge from Hungary, by truck from the vehicle plants in the south of Germany, or by rail from Slovakia and the Czech Republic. In 2019 the terminal handled 220,000 units.
The Kia volumes are coming from the carmaker's Slovakian plant in Zilina by rail and BLG has been handling vehicles from there since the plant was set up in 2006. On delivery the vehicles undergo technical reconditioning, including special modifications, before going into storage. BLG provides vehicle preparation, washing, underbody protective coating, painting and special fittings at the site. BLG AutoTransport is handling onward distribution to dealers throughout Germany.
Görgen Brockbalz, managing director of the auto terminal, said it was important to optimise the existing site without expanding it. "Instead, we're building up. We're also concentrating our transport here at our main location," said Brockbalz, adding that transport to existing external storage sites would soon no longer be necessary thanks to the extra capacity at Kelheim.